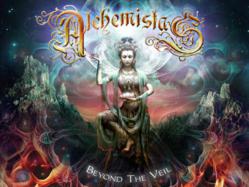 "Visionary art is the technology of externalizing our inner consciousness. " ~ Andrew Jones
San Francisco, CA (PRWEB) April 29, 2013
Visionary Art seeks to capture visions of higher states achieved through meditation, transcendental states, dreams, and plant medicines. In doing so, it blends imaginations of what the human mind can achieve and aspirations of what the human spirit can become. It is art with true meaning of the mind and of the soul.
For the first time, some of the worlds best Visionary Artists have come together to collaboratively publish a collection of their favorite pieces in a beautiful full color art book entitled, Alchemistas - Beyond the Veil. The title of the book suggests the Alchemical search to transmute base materials into gold, to refine the soul into its purest form, while removing the veil of normal reality to offer a glimpse into unknown and unseen realms. It is the goal of these artists to capture a new vision of our world in a time when our planet and culture needs it the most.
Alchemistas will feature such prominent visionary artists as Ernst Fuchs, Mark Henson, Robert Venosa, Martina Hoffmann, Andrew Jones, Luke Brown, Amanda Sage, Carey Thompson, Andrew Gonzalez, and many others. These artists have been published in various national and international publications, exhibited in galleries and festivals around the world, worked on projects like the restoration of the Sistine Chapel, decorated countless buildings with their public murals, and shared their work with thousands of fans worldwide.
This project is the brainchild of founding artist Darren Minke, who was inspired in his own artistic journey to share the work of these unique visionaries with a larger audience. Mr. Minke spent several years touring with his artwork at festivals around the world and met an amazing group of artists and visionaries that were creating groundbreaking artwork. He then spent the next few years gathering all of these artists together into one publication. He has teamed up with Writer and Publisher Angela Russell of Know Wonder Entertainment and Associate Producer Julian Reyes of Keyframe-Entertainment to help create and promote this epic project.
The book will be presented in beautiful full color pages, with large prints of the artwork that could potentially be removed and framed separately if desired. The artwork will be accompanied by inspirational quotes from Angela Russell and several other notable visionary writers. The book's creators hope that it will become a source of continuous inspiration and visual wonder that people will wish to share with their friends and family.
The Alchemistas project is completely artist owned and publicly funded. They have launched a Kickstarter campaign to ask for public support for their project, and to give people a chance to pre-order the book or purchase artwork from the participating artists. You can join the movement here at http://kck.st/10lLciX. They are seeking $20,000 to help design and publish the art book, and will only receive the funds if they can reach their goal by May 18th!
"For a long time, our culture has celebrated art that is obscure at best and can only be experienced in a museum or gallery. Visionary art is art that is alive and is often created live at events with ecstatic music playing and lots of people dancing and watching as the artist creates. it was this type of vibrant creation that inspired me to put this project together, to capture some of that spirit and energy that goes into each piece... its a celebration of life!" ~ Artist Darren Minke
Associate Producer Julian Reyes of Keyframe-Entertainment states "The permanence and love of Visionary Art can be seen in a multitude of places: in Alex Grey's Entheon, in SolPurpose's new beautiful Visionary Artists INDEX, in The Bloom Series' amazing 'Vessels of the Divine' :: Spotlight on Visionary Art | The Bloom Series, in Amanda Sage's visions, in Andrew Jones' breathtaking work, and in all of the Transformational Festivals happening worldwide. This art form is at the cutting edge of consciousness and we should nurture it as it is helping us see reality in a new way. The world needs deep healing, and Visionary Art provides the medicine of inspiration."
About Keyframe-Entertainment
Keyframe-Entertainment bridges underground EDM culture and the mainstream through transformational media: film, music, visionary art, community-building, social networking and more. Keyframe's goal is to create global positive change and enhance the living experience by inspiring, informing, and entertaining. Visit Keyframe at http://keyframe-entertainment.com.
About KnowWonder Entertainment
A collaborative team of veteran business and entertainment professionals, talented artists and visionary authors, KnowWonder Entertainment has developed specific projects through which to deliver progressive ideas and ageless wisdom, in the form of superbly crafted entertainment, uniquely designed for success in multiple markets, both domestic and overseas. Visit KnowWonder at http://www.knowwonderentertainment.com.