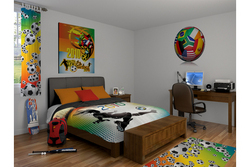 We had such strong demand from customers to add rugs to our collection of custom products, the choice was easy. VisionBedding will continue to add products to its line that compliment our Vision, and are consumer demanded, says Justin of VisionBedding.com
Pierre, SD (PRWEB) August 3, 2010
VisionBedding.com has added new custom photo rugs to its line of Custom Photo Home Decor. Choose from over 7 million designs of rugs from small to large or create your own personalized rug with your photo or design.
After numerous requests we have added rugs to the collection of customizable home decor products available at http://www.VisionBedding.com . VisionBedding will produce the rugs on demand and therefore allows the customer to change any one of the 7 million designs to the customers desire. It is also important to note that VisionBedding ships worldwide for a low $49 flat rate fee.
VisionBedding's new rugs are 100% unique – featuring millions of customizable rug designs that cant be found anywhere else. From World Cup Soccer themed rugs to real life animal images, you almost might think your photo rug from VisionBedding is the real thing. There are hundreds of unique themes from 1960s styles to Zodiak designs and the actual total rug designs is over 9 million. The rugs are currently available in 3 sizes and 2 different types. The carpet style rug which is simple to understand and the fine print rug which is a softer rug that allows the photographic image to come out much clearer then the carpet rug. VisionBedding boasts its entirely 'specialized' process which allows them to create the softest feel and sharpest image on rugs, custom bedding, pillows, etc., in a quick 3-5 business days.
VisionBedding also allows creative customers to design their own custom personalized rugs using the customers own photo. This will bring an end to that sinking feeling that the perfect rug doesn't exist, because VisionBedding either has it or will create a unique rug specific for one customer.
# # #