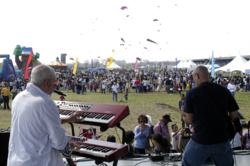 "Relocating such a well-established event certainly presented marketing obstacles, but we felt very fortunate to have been able to keep it within Liberty State Park," said Christina Filip, Vision Media Marketing Senior Account Manager
Secaucus, NJ (PRWEB) April 29, 2013
New Jersey Public Relations firm Vision Media Marketing Inc. overcame numerous marketing challenges to successfully orchestrate the Hudson County Improvement Authority's 10th Annual Earth Day 5K Run/Walk and Fair at Liberty State Park, Jersey City, on Saturday, April 20. The event was a resounding success despite extensive Hurricane Sandy damage to the park where it has been held for the last ten years. Thousands of area residents and families packed the event at its new location in the field immediately south of the ferry parking lot.
The 2013 5K Run/Walk and Earth Day Fair presented unique marketing challenges due to the destruction of the pavers along the Hudson River Walkway and substantial damage to the Historic CRRNJ Terminal (the location customarily utilized for the event). Employing a combination of paid and earned media, targeted online advertising and community outreach Vision Media Marketing was able to attract thousands of fairgoers to the event's new location.
"Relocating such a well-established event certainly presented marketing obstacles, but we felt very fortunate to have been able to keep it within Liberty State Park. We had our doubts about being able to do so, especially after seeing the incredible Hurricane Sandy destruction firsthand," said Christina Filip, Senior Account Manager at Vision Media. "Communicating with runner's clubs, community organizations, environmental groups and local media, we were able to reach our target audiences successfully – ensuring a higher than expected attendance."
Festivities began at 10AM, with a 5K Run and the 5K Walk for Liberty (sponsored by the Friends of Liberty State Park), followed by the Earth Day Fair from 11AM – to 4PM. There were plenty of family-friendly activities, environmentally-themed displays, information on services available throughout Hudson County and free tree seedlings (compliments of the NJDEP's Division of Parks and Forestry). A "Kids' Kingdom" area included many giveaways and interactive entertainment, such as inflatable rides, stilt walkers, face-painting, arts and crafts activities, contests and entertainment on stage throughout the day – all free for fairgoers.
Vision Media Marketing has served the HCIA as its public relations and media production consultant for nearly twenty years and has been involved with the Earth Day 5K Run/Walk & Fair event in Liberty State Park since 2003. The firm specializes in helping government entities connect with residents and constituents by using both traditional and cutting edge paid and earned media strategies.
Vision Media Marketing maintains a blog, VMMI Policy Perspectives, and it distributes a quarterly newsletter to clients, colleagues and other interested parties. For more information, please call Philip Swibinski at 201-864-0600 or visit http://vmmi.net.
About Vision Media Marketing
Vision Media Marketing Inc. was incorporated in 1985 by Jean Swibinski and Paul Swibinski, who continue to direct the company. A full-service public relations and media communications firm with a long history of successfully delivering clients' messages, it specializes in public policy issues and crisis communications. Vision Media helps clients break through today's cluttered media landscape to get their voices heard.