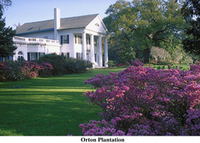 Raleigh, NC (Vocus) February 21, 2008
See what North Carolina has to offer for spring. Find more information at VisitNC.com.
Great Gardens: Explore These Top Picks
Orton Plantation Gardens, Winnabow – Located on the coast, south of Wilmington, Orton Plantation Gardens consist of formal beds dominated by annuals, perennials and informal path borders lined with azaleas, camellias and mixed pines. Deciduous hardwoods create a thick canopy over the upper paths. Currently, there are 60 managed acres and 20 acres of self-guided walking paths. (http://www.ortongardens.com)
Tryon Palace and Gardens, New Bern - Tryon Palace was the 18th-century residence of the governor of the colony and state of North Carolina. The site includes 22 acres with 13 period gardens and three historic homes from the 18th and 19th centuries. (tryonpalace.org)
North Carolina Arboretum, Asheville - The North Carolina Arboretum is a 434-acre public garden offering 65 acres of cultivated gardens and 10 miles of hiking and biking trails, a greenhouse complex and the finest bonsai collection in the Southeastern U.S. (ncarboretum.org)
Sarah P. Duke Gardens, Durham - Fifty-five acres of landscaped and woodland gardens feature more than 2,000 kinds of plants, five miles of walks and pathways with bridges, courts, lawns, waterfalls, ponds and pavilions. Includes Blomquist Garden of Native Plants and Asiatic Arboretum. (hr.duke.edu/dukegardens)
Signature Spring Events
Festival of Flowers, Biltmore Estate, Asheville, April 5 – May 11, 2008
Spring arrives at Biltmore Estate with a rush of colorful, fragrant blossoms outside and delicate arrangements inside. Wander through the stunning display of more than 90,000 tulips in the Walled Garden while listening to live music on the weekends. (http://www.biltmore.com/visit/calendar/spring.asp)
Celebrate Spring! Plant and Craft Festival, Daniel Stowe Botanical Garden, Belmont, April 19 – 20, 2008
One of the garden's largest one-day crowd during the year, features a celebrity guest speaker and a variety of vendors offering top-quality plants, fine arts and crafts. (dsbg.org)
FOR CHILLIER SPRINGS DAYS: Visit the new Orchid Observatory at Daniel Stowe Botanical Gardens, free with general admission. The "glass house" is five stories tall and features orchids and tropical plants and includes the largest indoor display of bromeliads in the eastern U.S.
61st Annual North Carolina Azalea Festival, Wilmington, April 9 – 13, 2008
This springtime tradition celebrates Wilmington's artwork, gardens, history and culture. Activities include concerts, a riverfront street fair, a parade, a princess pageant and more. (ncazaleafestival.org)
Unique Lodging
The Proximity Hotel, Greensboro – Newly opened, this boutique hotel, according to owner Dennis Quaintance, "is arguably the greenest hotel in the United States." The hotel has applied for five-star LEED certification. See how grace, beauty and sustainable travel and dining come together. Learn why the New York Times and Travel + Leisure are already talking about this new destination.
(http://www.proximityhotel.com/tour.htm)
Old Edwards Inn and Spa, Highlands - Old Edwards Inn and Spa is located in the charming, historic mountain town of Highlands. The inn features world-class service that anticipates your every desire in a cozy yet elegant setting. (oldedwardsinn.com)
The Carolina Inn, Chapel Hill - Recognized as one of America's "cultural resources worthy of preservation," The Carolina Inn, located in the heart of the University of North Carolina Chapel Hill campus, is listed on the National Register of Historic Places. The Carolina Inn is architecturally significant, blending elements of antebellum Southern plantation houses with Georgian and neoclassical features. (carolinainn.com)
Blackbeard's Lodge - Come sit on the porch swing and enjoy the island breeze at America's Best Beach, Ocracoke Island. Relax in the warm and comfortable lobby where you'll find a grand piano and a wood-burning stove from the 1800s. Each of Blackbeard's Lodge's 38 guest rooms, suites and apartments has its own distinct character. Find it in the heart of Ocracoke Village. (http://www.blackbeardslodge.com)
North Carolina offers arts and culture, unique lodging, charming small towns and vibrant urban locations. Explore the highest peaks east of the Mississippi to the 300 miles of pristine coastline at http://www.VisitNC.com.
Contact:
Susan Dosier, (704) 364-8969, sdosier @ visitnc.com
Wit Tuttell, (919) 733-7420, wit @ visitnc.com, media @ visitnc.com
# # #