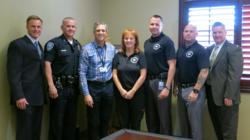 They are truly changing lives.
Fontana, CA (PRWEB) November 08, 2012
On November 06, 2012, Vista Metals President Andrew Primack presented a generous donation to The Fontana Leadership Intervention Program (FLIP); Fontana Police Captain Robert Ramsey accepted it on behalf of FLIP. The contribution will help the program continue to fulfill their mission of saving at-risk youth. Vista Metals Corp is the world's largest independent producer of specialty aluminum products.
"We were impressed with FLIP and wanted to support a great cause," expressed Andrew Primack, President of Vista Metals Corp. "We are always looking for new and improved ways to give back to the community." FLIP presented a small presentation to Vista Metals Leaders and the Momentum Group on what the program is and what affect it has on the youth and the community.
FLIP is a 16 week program that offers at-risk teenagers an opportunity to experience a unique educational environment which will positively impact the rest of their lives. "I'm impressed with the program and blessed to see the difference it's making in so many lives," said Fontana School Police Chief Billy Green.
FLIP training classes focus on:

Violence prevention
Drug and alcohol resistance
Ethics
Leadership skill development
Teamwork
The program also requires the parents of the students to take an eight week parenting class.
Through FLIP, participants are given a new outlook on life and a chance to be recognized for something positive. Upon successful completion of the program, students will participate in a formal graduation ceremony that includes a keynote address by a recognized community leader and they are awarded a select amount of elective credits towards graduation.
"I can't thank Vista Metals enough for their support," said Fontana Police Department Captain Bob Ramsey. "They are truly changing lives."
The mission of the Fontana Leadership Intervention Program is to bring about a lasting, life-altering, and positive change in the attitude and behavior of participants. To learn more, visit FLIP.
About Vista Metals Corp
Vista Metals Corp is the largest global independent producer of specialty aluminum products. They are located in Fontana, California and Adairsville, Georgia. Along with its tooling and mold plate products, Vista produces aluminum billet for the hard and soft alloy extrusion industry, cast and scalped billet for the forging industry and slab for rolling applications. More information can be found at VistaMetals.com.