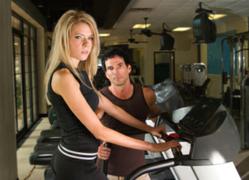 Charlotte, NC (PRWEB) March 17, 2013
Visual Impact Cardio, the latest fitness training course from fitness blogger Rusty Moore has become an overnight sensation provoking a review from DietsAndFitnessGuides.com's Vince Delmonico.
"Rusty Moore has released a number of top selling fitness guides over the past couple of years," reports Delmonico. "We just recently reviewed his Visual Impact Muscle Building, his Magnum Opus, as well as his women's program Visual Impact For Women. Both have proven quite popular with our website visitors, so we thought we had better go three for three and see what Rusty has got lined up for folks in Visual Impact Cardio."
While Moore's previous programs focused on strategic muscle building to achieve what he refers to respectively as the "lean Hollywood look" and the "slim fit and feminine physique", Visual Impact Cardio concentrates on the most effective use of cardio for fat loss.
Delmonico explains how Visual Impact Cardio differentiates itself in the marketplace:
"Obviously there are any number of weight loss plans coming out everyday," says Delmonico. "Moore's program is unique because it goes deep, very deeply into what he calls the 'skill' of fat loss. Moore explains how fat loss really works and debunks several popular misconceptions including the so called 'after-burn' effect. Then, rather than just saying run intervals for X amount of minutes, and then do steady state cardio for X amount of minutes, Moore details both how and why a strategic approach to cardio maximizes the calories one burns in order to accelerate fat loss. Only then does he provide readers with a fully customizable approach including three complete eight week workout cycles."
The Visual Impact Cardio program is available digitally online allowing customers instant access to all training materials including the 99 page Visual Impact Cardio Manual PDF, and Printable Workout Journal.
Those wishing to purchase Visual Impact Cardio, or for more information, click here
Vince Delmonico reviews diets, fitness guides and other self help programs on his website DietsAndFitnessGuides.com. Delmonico's Visual Impact Cardio review is available at the following web address: http://www.dietsandfitnessguides.com/rusty-moores-visual-impact-cardio-review/