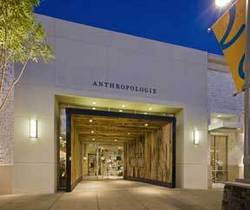 But it's the company's commitment to innovative, exciting and flat-out beautiful store design and visual merchandising that seals the deal
Cincinnati, Ohio (Vocus) May 28, 2009
Visual Merchandising and Store Design (VMSD) magazine has named Urban Outfitters Inc. its 2009 Peter Glen Retailer of the Year. The specialty retailer's brands include Anthropologie, Free People, Terrain and Urban Outfitters.
Anthropologie store design director James Smith will accept the award at IRDC in Dallas on Friday, September 25.
VMSD associate publisher Kristin D. Godsey, who also serves as conference chair for IRDC, said Urban Outfitters Inc. has maintained relatively strong sales through the downturn. "But it's the company's commitment to innovative, exciting and flat-out beautiful store design and visual merchandising that seals the deal," she said. "These factors combined have earned the company this prestigious award."
The Peter Glen Award is presented each year by VMSD to the retailer that best embodies the virtues held dear by Glen, a long-time retail critic and columnist who passed away in 2001: smart retailing, good service and an acute awareness of your position in the marketplace. Previous winners have included Federated Department Stores (2005), Nordstrom (2006), Best Buy (2007) and Costco (2008).
ABOUT IRDC
The International Retail Design Conference (IRDC) is the premier educational and networking event for the store design and visual merchandising community. Presented by VMSD magazine, IRDC combines inspirational sessions, expert Q&A, roundtable discussions, case studies and networking events into three productive days, drawing as many as 400 attendees from the U.S. and abroad.
ABOUT VMSD
VMSD (Visual Merchandising and Store Design) is the leading magazine for retail designers and store display professionals. Originally named Display World, the publication has been serving the retail industry for 140 years. Every month, VMSD showcases the latest store designs and visual displays, presents merchandising strategies and new products, and reports on industry news and events.
MEDIA CONTACTS:
Kristy Lohre, event manager
ST Media Group International
513 263 9350
http://www.irdconline.com/
Sandi Luppert, marketing manager
ST Media Group International
513 263 9338
http://www.irdconline.com/
###