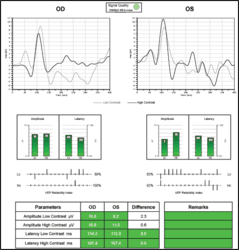 The objective assessment of visual function from the Diopsys NOVA-LX will introduce a valuable advance for early diagnosis and potential management of glaucoma.
Pine Brook, NJ (PRWEB) March 29, 2013
The Diopsys® NOVA-LX Visual Evoked Potential (VEP) Vision Testing System has proven to be an effective tool for glaucoma detection. New research by New York Eye and Ear Infirmary just published in Investigative Ophthalmology & Visual Science, shows the Diopsys® NOVA-LX objectively identified decreased visual function and showed good differentiation between healthy eyes and those with early, moderate and severe glaucomatous visual field loss. The paper, "Sensitivity and Specificity of Short Duration Transient Visual Evoked Potentials (SD-tVEP) in Discriminating Normal from Glaucomatous Eyes," was first presented as a poster at the 2012 Association for Research in Vision and Ophthalmology meeting.
VEP technology objectively assesses the function of the entire vision system by measuring the electrical energy created in the retina which travels to the visual cortex. Glaucoma is characterized by progressive loss of special cells in the retina, called ganglion cells, and their axons. Because these ganglion cells carry the electrical pulses of what we "see" through the optic nerve to various vision centers of the brain, VEP technology is able to help assess damage from the disease early on. This is important because glaucoma is the second leading cause of blindness in the world according to the World Health Organization, and half of all patients who have it do not know it.
To the patient, glaucoma commonly presents as decreasing peripheral vision; however, most patients do not experience any symptoms until late in the disease and then experience irreversible vision loss. Also, diagnosis and management of optic nerve disorders are often based on structural or visual field tests which are limited in their ability to detect disease early. Study author Robert Ritch, MD, Chief of Glaucoma Service and Surgeon Director, New York Eye and Ear Infirmary, says "the objective assessment of visual function from the Diopsys® NOVA-LX will introduce a valuable advance for early diagnosis and potential management of glaucoma."
The Diopsys® NOVA-LX uses a checkerboard stimulus with both low contrast (dark grey and light grey) and high contrast (black and white) checks to elicit a VEP response. The clinical paper found that the low contrast results showed the highest accuracy for discrimination for all the groups tested against healthy eyes. Overall, the authors found the analysis for all subjects resulted in a 91.1% sensitivity, 93.3% specificity.
For more information on the Diopsys® NOVA-LX, please visit http://www.diopsys.com/LX.
About Diopsys
Diopsys, Inc. (http://www.diopsys.com/) is a medical instrumentation company dedicated to delivering high-quality, cost-effective preventative health care solutions. The company specializes in the development and marketing of patient-friendly, non-invasive vision testing equipment utilizing electrophysiological technology.
Diopsys has developed and markets the patented Diopsys® NOVA-VEP and Diopsys® NOVA-pERG Vision Testing Systems utilized by optometrists and ophthalmologists to help in the detection, diagnosis and treatment of vision disorders. Diopsys also provides the Enfant® Pediatric VEP Vision Testing System, a device used in testing for visual deficits, including amblyopia, in children as young as six months of age.