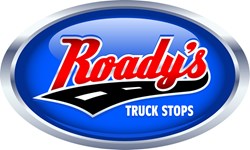 "This is not just a medically-related issue. This is an issue for the trucking business as well as the health concerns of drivers. Vital Signs is a business portal to a medical concierge service for the trucking industry."
-Bob Lee, Roady's Truck Stops
New Plymouth, ID (PRWEB) March 20, 2013
Roady's Truck Stops and DDME have joined forces to develop a revolutionary idea that will benefit professional truck drivers across the nation. "We continually hear from drivers and companies that they need more information on the industry trends and FMCSA mandates, plus how to stay healthy on the road," says Roady's Truck Stops President Bob Lee.
"Vital Signs" was developed to link these concepts into one offering by a monthly newsletter, which will give truck drivers much-needed information on current trucking trends, FMCSA mandates and health-related issues, including pressing issues such as requiring mandatory sleep apnea screening for high-risk drivers," says Lee. "This is not just a medically-related issue. This is an issue for the trucking business as well as the health concerns of drivers. Vital Signs is a business portal to a medical concierge service for the trucking industry."
Lee says Vital Signs will become a tremendous asset for professional truck drivers. Our first service will address the high cost of treating sleep apnea in the trucking industry. Additional services will be added, such as finding doctors to going through random drug screenings and more. "We're looking at the bigger picture," says Lee. "This is a 'We come to you' service."
The service of which Lee speaks includes the ability to truck drivers to secure affordable, full-service sleep apnea testing, diagnosis, treatment and compliance while on the road if necessary. The service, Vital Signs Apnea Assistant Program, is offered through DDME who uses the industry leading, highest classification of Home Sleep Testing Devices approved by the Federal Drug Administration, Board Certified Sleep Physicians for providing Diagnosis, and Registered Respiratory Technicians for applying the test. The program was developed by a team of professionals from both the trucking industry and the sleep apnea industry to fit the needs of the professional truck drivers with no health insurance, or insurance with high deductibles.
"We are very excited about launching Vital Signs," says Jacqueline Garrens, DDME Senior Vice President of Internet Sales and Marketing. "The Vital Signs Sleep Apnea Program is the affordable, convenient and full-service sleep apnea program the trucking industry has been waiting for. Additionally, Vital Signs will be adding a host of medical services on demand, where and when the driver needs that service. We have adopted the slogan 'We Come to You' so the driver knows they will not be inconvenienced.
"We are pleased to be teamed up with Roady's as we, too, see Vital Signs as a quality of life issue for drivers that can cut through all the hassle," says Garrens.
Those interested in learning more about Vital Signs and the Vital Signs Apnea Assistant Program can call 800-513-9337 or visit the website at http://www.MyApneaAssistant.com.
About DDME:
DDME (http://www.ddmeonline.com) brings sleep lab technology and services to the Vital Signs Program. The management of DDME have 40 years of experience in developing and marketing sleep lab technology to the medical market. The T3 Sleep Apnea Monitor provides a Chain of Custody as required by proposed FMCSA quidelines, as well as providing the physician information on other medical conditions such as Central Apnea and Bruxism along with other advanced features not common in most mail-order devices.
About Roady's Truck Stops:
Roady's corporate offices are located in New Plymouth, Idaho where the future looks bright, and is constantly measured by the success of our nearly 300 independently owned and operated locations across the country.
Roady's is proud to be The Hometown National Truck Stop Brand for professional drivers and looks forward to continued opportunities to achieve greater success.
For more information, contact Jeff Wyscarver (951) 496-6126, or Larry Hurrle, (208) 674-6288.