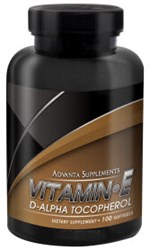 Vitamin E has been shown to be one of the most important antioxidants that one can take
Adel,, Iowa (PRWEB) March 05, 2013
People looking to potentially lower their risk of developing heart disease, liver disease, rheumatoid arthritis, Alzheimer's disease, dementia and a host of other ailments – or who simply want a powerful antioxidant to bolster their immune system and protect their cells from the damage caused by free radicals – can now purchase the new line of 100% naturally-sourced Vitamin E gel caps from Advanta Supplements.
Each easy-to-swallow gel cap contains 400 IU of Vitamin E that has been sourced from quick-absorbing D-Alpha Tocopherol: the only natural and most nutritionally significant form of Vitamin E available. Plus, each bottle contains 100 gel caps, which means that the need to order refills will be few and far between.
"In our busy lives, maintaining healthy and balanced nutrition through what we eat is getting harder each day," commented a spokesperson from Advanta Supplements. "And yet, Vitamin E has been shown to be one of the most important antioxidants that one can take, an essential part of one's daily vitamin needs, and a key factor in maintaining a strong and healthy immune system, eyes and skin. Our new easy-to-swallow and digest Vitamin E gel caps are an effective way to reap the rewards of 100% naturally-sourced Vitamin E, and ideally live a happier, healthier and longer life."
Advanta Supplements' new 400 IU Vitamin E (D-Alpha Tocopherol) gel caps are available now from Amazon.com at http://www.amazon.com/Vitamina-E/dp/B009R7OD2S. Each bottle contains 100 gel caps, and currently priced at $10.49, which is 58% off the list price of $24.99. Customers can also take advantage of Advanta Supplements' 100% money-back satisfaction guarantee.
About Advanta Supplements
Located in the heart of Iowa, Advanta Supplements partners with FDA-approved labs to develop, test, and manufacture a line of quality vitamins and nutritional supplements. All Advanta products are made in the U.S. and backed by a complete customer satisfaction guarantee. Learn more at http://advantasupplements.com.