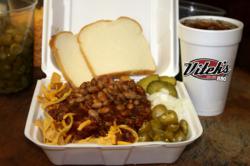 Waco, TX (PRWEB) March 25, 2013
With the start of the 2013 NCAA Tournament, one thing is certain – great games are even better with great food. But which college town offers up the very best game time meal? That will be decided once and for all by the Cooking Channel's "Bracket Battle: Best College Eats."
The tourney which started by pitting the top local dishes from 32 college towns against each other has moved to the Sweet 16 Round and is casting a new national spotlight on at least one dish that has enjoyed a cult-like following for more than 30 years.
Vitek's Bar-B-Q's signature meal, the Gut Pak® combines chopped beef, sausage, cheese, beans, pickles, onions, jalapenos, bread and Fritos. Representing Baylor University in the competition, the Gut Pak has seen what seems to be a never-ending stream of current students, alumni and locals returning to Vitek's for their before, during and after game meals. Loyalty to the dish hasn't waned since it was invented in 1983, by 3rd generation owner Bill Vitek, who operated the family business for 37 years.
A Growing Family Legacy
The 98-year-old restaurant, set to begin franchising later this year, is in its 4th generation of family ownership. According to current owner Julie Vitek Keith, great granddaughter of original proprietor William Vitek, the idea of family goes well beyond the restaurant's ownership.
"We have Baylor alumni bringing their children and grandchildren here every week," she says. "They consider Vitek's part of their legacy as much as we do, and we're proud to be a part of their lives."
Now according to Vitek, adding the Cooking Channel's Best College Eats crown to that legacy may well be within reach.
"After a solid first round win, we have momentum going into the Sweet 16. Baylor students, alumni, our friends and the local Waco community are ready to carry us through the competition," says Vitek, giving a nod to the enthusiastic support the Gut Pak has received in online voting. "Around Baylor they are usually yelling the school cheer 'Sic 'em Bears,' but lately the chant 'Sic 'em Gut Pak' can be heard," she says, as this family-owned restaurant pushes for a national title.
Gut Pak fans can cast their vote in the Sweet 16 Round from March 22nd through the 26th at http://www.alturl.com/o67ty.
Gut Pak Fuels Growth
A landmark since 1915, Vitek's Bar-B-Q, at 1600 Speight Ave., Waco TX., offers a full menu of delicious true Texas barbecue, wraps, sliced beef, turkey, homemade sausage, pulled pork, ribs, and all of the extras. The Waco restaurant is perhaps best known as the Home of the Gut Pak™. In addition, Vitek's offers full service catering for parties of any size, an outdoor Biergarten and the Gut Pak Shak, Vitek's 2nd 2 window drive-thru at 3428 Franklin Ave. Waco, TX. For further information call 254-752-7591; E-mail: viteksbbq(at)gmail(dot)com or visit http://www.viteksbbq.com.