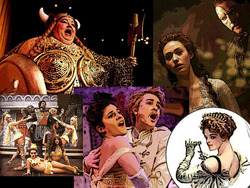 People will be uplifted by the beautiful music that we play ... by the life that we bring to the music.
Blacksburg, VA (PRWEB) June 17, 2010
Chamber music lovers and opera fans, take note. The concert schedule of Viva Virginia – a two-week opera and chamber music festival starting June 21 – includes a clarinet quintet and romantic pieces for violin and piano.
Other powerhouse pieces to be performed are Brandenburg Concerto No. 3 for Strings by J. S. Bach and Il Tramonto by Respighi for voice and string quartet.
The festival will bring together luminaries from the opera and chamber music worlds, who will gather to coach and mentor a new generation of superstar performers. The festival will offer concerts, lectures, and master classes open to the public, with tickets available at http://www.VivaVirginia.org.
Other works on the schedule include Mozart's Viola Quintet in G Minor K. 516, Tchaikovsky's Souvenir de Florence for string sextet, and an evening of excerpts from operas by Puccini, Verdi, and other Italian composers.
In addition to performances, master classes will be part of the draw for audiences who love classical music and opera.
"People really like secrets, and in the master classes it's really being let in on something that's essentially intimate and private," said Joan Dornemann of the Metropolitan Opera. Dornemann, Viva Virginia's artistic director, was in Blacksburg recently to make last-minute preparations for the festival. Dornemann will conduct a master class during the festival, as will three-time Grammy winner Sherrill Milnes, one of the great Verdi baritones.
Shmuel Ashkenasi, first violinist of the Vermeer Quartet and professor of violin at the Curtis Institute of Music, also will conduct a master class. In Blacksburg recently for a concert, Ashkenasi said of the festival:
"People will be uplifted by the beautiful music that we play, hopefully by the excitement, the life that we bring to the music – especially in today's nervous economic, political life that we live in. I think it's terribly important that we have the other side of human culture, which is the most beautiful thing we can do."
Internationally acclaimed violist Sheila Browne, also in Blacksburg for a concert recently, pointed out that audiences, in addition to appreciating the "wonderful lineup of faculty and performing artists who are coming from all over to contribute," can also enjoy the countryside. "There are so many things to do here. The Blue Ridge Mountains – you can go hiking for the afternoon, then come home and rest up a bit and go to a concert – I think it would be a lovely opportunity for people."
Bios of the festival's 34 faculty members and performers can be found at http://www.VivaVirginia.org, along with the performance schedule, descriptions of the master classes, and information about the Blacksburg area for visitors.
Viva Virginia is organized by Virginia Tech's Outreach and International Affairs and the International Vocal Arts Institute. The festival is a project of the Virginia Tech Arts Initiative.
###