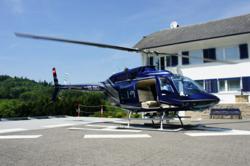 Investors are compelled to pay attention to Russian real estate market due to stagnation of European market, - as stated by Vladimir Skigin, chairman of the board of directors at Satellit Development
Los Angeles, CA (PRWEB) March 06, 2013
Experts at Sattelit Development predict the rise in investments in Russian commercial real estate market of up to $7 billion in 2013. For comparison purposes, total amount of investments in 2012 accounted for $6.5 billion. More than half of investments that took place last year were made into Moscow's commercial real estate; second most attractive city for investors was Saint-Petersburg, and the rest of regions cumulatively received approximately $1 billion in investments. Geographical allocation of investments will not change significantly this year either.
Most popular segment amongst investors in the past year was office real estate, which accounts for more than one third of all bargains (37% as stated by Colliers Int.). Second most popular segment is retail real estate (23%), followed by hospitality real estate (17%).
"Investors are compelled to pay attention to Russian real estate market due to stagnation of European market," stated Vladimir Skigin, chairman of the board of directors at Satellit Development. "Investments in Russian commercial real estate are particularly appealing to those investors who are willing to take risks that will be consequently compensated by high profit."
In the last two years Russian commercial real estate market has shown a steady increase in interest from foreign investors. Today's level of investments at $6.5 Billion has already surpassed the "pre-crisis" level of $5.8 Billion in 2008. Experts from Satellit Development predict that in 2013 the increase in Russian market of consumer goods and services will contribute to further increase in level of investments in commercial real estate market of Russia.
About Satellit Development
Management Company "Satellite Development" LLC was established in 2008 and its main activities include: integrated land development, sale of land, development and design of residential and commercial projects, consulting and brokerage services.