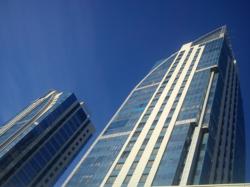 Any project of this magnitude should take into consideration that Saint Petersburg is an "Architectural Pearl" and is considered to be a "City-Museum" - said Vladimir Skigin
(PRWEB) November 14, 2012
Based on information received from Satellit Development, a 525 feet high skyscraper is under design and will become the tallest building in Saint Petersburg, Russia.
This multifunctional building will be located at the cross of Engels and Severniy Prospects in place of old abandoned furniture factory and take place on the Poklonniy Hill, which will bring total height of the project to 656 feet above the sea level.
Not a lot of preliminary information is available about this project at this time, which raises many concerns among Saint Petersburg's citizens. Being a historic center of Russia, Saint Petersburg has very stringent height restrictions as well as restrictions on affecting historic panoramic views of Northern Capital of Russia.
Vladimir Skigin, a co-owner of the Managing Company "Satellit-Development" had the following comments on this project: "Unfortunately, it is very difficult to assess this project based on the very limited information available at this time. I believe holding public hearings and open architectural contests would be a step in the right direction. Any project of this magnitude should take into consideration that Saint Petersburg is an "Architectural Pearl" and is considered to be a "City-Museum". I am certain that all possible pro and cons will be considered before the start of construction and given the right outcomes it could be a very attractive project."
About Satellit Development, LLC
Management Company "Satellite Development" LLC was established in 2008 and its main activities include: integrated land development, sale of land, development and design of residential and commercial projects, consulting and brokerage services.