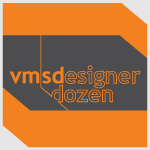 We're seeing a lot of new projects, fresh ideas and energy coming from the young designers in our industry
Cincinnati, OH (PRWEB) February 09, 2012
Cincinnati-based VMSD magazine is celebrating the best and brightest young designers in retail design with The Designer Dozen. In retail's global, multi-channel and fast-paced market, it's going to take more than business-as-usual to help propel the industry forward. This list of up-and-coming retail design talent represents those introducing new strategies and concepts and impacting the shopping experience in the 21st century.
"As the retail industry gains momentum, we're seeing a lot of new projects, fresh ideas and energy coming from the young designers in our industry," says Anne DiNardo, editor, VMSD. "We want to recognize their hard work and effort in driving this next-generation of design."
Nominations were accepted at the beginning of 2012 and reviewed by VMSD's editors and Editorial Advisory Board. The 12 emerging stars recognized this year come from design firms and retail organizations across the country, including Luxottica, Macy's, Marc Jacobs, Starbucks Coffee Co., Gensler, Interbrand Design Forum, FRCH Design Worldwide and more.
VMSD is proud to announce this year's recipients:

Leonard Barszap, Senior Designer/Project Manager, D-Ash Design
Aaron Birney, Senior Associate, Gensler
Nate Hermann, Senior Environmental Designer, Interbrand Design Forum
Rachel Lanzafame, Designer, Bergmeyer Associates Inc.
Jenine Monks, Retail Designer, Big Red Rooster
Dusan Motolik, Associate, Avila Design Inc.
Robyn Novak, Creative managing director, FRCH Design Worldwide
Mary Lynn Penner, Senior Designer, Brand Communications, Chute Gerdeman
Meredith Seeds, Design Manager, Luxottica
Lauren Shaw, Retail Merchandising Manager, Marc by Marc Jacobs
Lionel Sussman, Director Global Concept Design, Starbucks Coffee Co.
Rachael Wright, Visual Manager, Macy's
Profiles of The Designer Dozen will appear in VMSD's March issue and the winners will be honored during The VMSD Designer Dozen Awards Bash, held March 1, 2012, at PURE Nightclub at Caesars Palace in Las Vegas. Awards Bash sponsors include Alpha Display and Pattison Sign Group.
About VMSD
Cincinnati-based VMSD (Visual Merchandising and Store Design) is the leading magazine for retail designers and store display professionals, serving the retail industry since 1922. Every month, VM showcases the latest store designs and visual displays, presents merchandising strategies and products, and reports on industry news and events. Learn more at vmsd.com
About ST Media Group International
ST Media Group International Inc.'s products enjoy a worldwide reputation of quality and timely editorial. Located in Cincinnati, ST Media Group is a 105-year-old multimedia company that specializes in the business-to-business markets of visual communications consisting of signage, retail design, screen printing, digital imaging, package design and boutique/hospitality design. Visit stmediagroup.com for details.
###