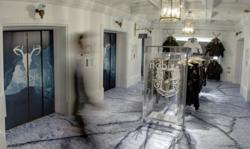 We really had to stop them in their tracks and make them want to shop the product.
Cincinnati, OH (PRWEB) June 28, 2012
VMSD magazine's 18th annual International Visual Competition has named Green Room's Nobis apparel campaign for Harrods (London) as Best in Show in the 2012 competition.
The International Visual Competition is the only one in the retail design industry dedicated solely to visual merchandising. Projects of limited shelf life are entered in categories ranging from in-store apparel presentation and window displays to temporary/pop-up retail space. Judges gathered this spring to review submissions from around the globe. For the 2012 competition, judges handed out nine first place awards and 10 honorable mentions.
Green Room CEO and founder Richard Ash explains that the Nobis project involved creating an in-store display for the outdoor apparel brand's launch at Harrods. The display had to overcome several challenges, including a basement location and a rigid framework set by one of the world's most prestigious retailers. "We really had to stop them in their tracks and make them want to shop the product," says Ash.
Judges lauded the concept, which included everything from floor graphics and lighting to product tags, for introducing the product in a creative, grand way. "It stands out, all the way down to the point of sale," says judge Jay Kratz, architect, senior design manager, store design, Luxottica Retail (Cincinnati).
See the full list of winners here.
See the list of honorable mention winners here.
Winners will be honored in VMSD's July issue and during an awards presentation at the International Retail Design Conference, September 5-7, in Chicago (irdconline.com). For more on the winners, visit vmsd.com.
About VMSD
Cincinnati-based VMSD (Visual Merchandising and Store Design) is the leading magazine for retail designers and store display professionals, serving the retail industry since 1922. Every month, VM showcases the latest store designs and visual displays, presents merchandising strategies and products, and reports on industry news and events. Learn more at vmsd.com.
About ST Media Group International
ST Media Group International Inc.'s products enjoy a worldwide reputation of quality and timely editorial. Located in Cincinnati, ST Media Group is a 105-year-old multimedia company that specializes in the business-to-business markets of visual communications consisting of signage, retail design, screen printing, digital imaging, package design and boutique/hospitality design. Visit stmediagroup.com for details.