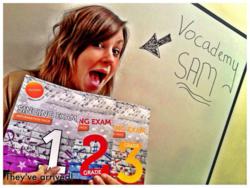 ... the new exams, while designed to give students the ability to measure progress, will not change the key focus of having fun and confidence-building through weekly singing lessons.
Brighton, Sussex (PRWEB UK) 13 March 2013
The Vocademy schools, which offer singing lessons for children aged seven to 18 in ten locations across Sussex, Hampshire, Kent and Surrey, are rolling out the first three syllabuses for free across classes this term to give students a taster of the mini exams.
The exams, which are graded in difficulty from 1 to 8, are designed to teach students the science behind good singing, as well as developing and extending their vocal range and techniques. Each syllabus and exam builds on the skills developed at the previous level, allowing students to measure their progression as their knowledge and vocal dexterity improves.
While the exams will not be compulsory, and young singers are free to follow the course but not take the exam if they find them stressful, those who do complete the tests successfully will be awarded certificates and coloured t-shirts, in a similar fashion to the martial arts grading scheme, to highlight their progress. The syllabuses run across all age groups, and singers will be encouraged to keep going until they wear a coveted black t-shirt which shows they have passed grade 8.
Vocademy has stressed that the new exams, while designed to give students the ability to measure the progress, will not change its key focus of having fun and confidence-building through weekly singing tuition.
Founder Damian Keyes said: "These syllabuses are designed to be fun as well as educational, and hope students will enjoy following them through."
Teaching, which will also keep its emphasis on contemporary songs, will focus on specific singing techniques at each level, as well as the science behind good singing, including basic breathing and voice production biology.
Each syllabus contains information to absorb, illustrations to explain how body parts work, and hints and tips for improving singing. In grade 1, for example, students are expected to perform one song with a microphone and backing track and answer some basic theory questions, having learned about how the diaphragm and vocal cords work. They are also given tips about using a microphone, and how to create an interesting and structured performance.
Grade 2 builds on the skills learned in the previous one, as well as looking more closely at song delivery, the different vocal registers and rhythm. Theory questions focus on general musicianship.
In grade 3, new skills tested including using vocal break and mixed voice, as well as tips to enhance articulation and vowel sounds.
The remaining grades will be introduced later this year.
Courses run for an hour a week for ten weeks, and all are taught in age-specific groups by CRB-checked industry professionals.
Vocademy Singing Schools can be found in Bognor Regis, Brighton, Basingstoke, Canterbury, Chichester, Haywards Heath, Horsham, Hove, Maidstone, Portsmouth, Southampton and Worthing. One-to-one lessons with a Vocademy Singing Teacher are also available.