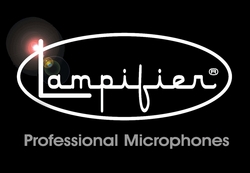 These mics are great… I wouldn't sing without it… put it up against any compression, any time, and this one wins hands down.
Indianapolis, IN (PRWEB) July 27, 2010
The Lampifier® Company, exclusive manufacturer of high-quality live performance microphones with built-in sound processing, has implemented a new idea in manufacturer artist endorsement: The Cross-Promotional Artist Endorsement program. This is a unique approach which benefits both the emerging musician as well as the Lampifier microphone company. Both are seeking to get the word out about their products, so it is a natural fit.
Lampifier Microphones, who claim "The World's Most Convenient Live Performance Microphones" due to the presence of a pro audio processor inside the mic handle, have come up with this unique and creative solution to meet the challenges of getting the word out about their new product amidst a changing marketing landscape.
The new microphone's inventor and patent holder Gary Osborne, explains it like this, "We have an amazing product that singers love, when we can get it into their hands. But it's difficult to get the word out since it's so new and different from any other microphone on the market. And at the same time, we see so many great musicians out there with significant fan bases on facebook and myspace. So we thought, why not team up with them in a way that helps us both grow together?"
The first cooperative advertising venture occurred between Second Soul vocalist Scott Yanke and the Lampifier company. The resulting video promo below has been made available to the Second Soul fan base as well as to Lampifier's opt-in newsletter of nearly 50,000 music fan subscribers.
http://www.youtube.com/watch?v=LZOlIUCJUuo
Lampifier is open to all styles of music and even speaking applications. In particular the company would like to find more Christian artists. In fact, they find that church congregations in need of good controlled sound on a budget generally find the company's church microphones to be a Godsend (no pun intended)! The company is already working with several church sound installation dealers.
Lampifier is also looking for a few emerging hip hop and R & B artists to round out the developing line up. This is important for the company as the microphone is particularly well suited to improving speaking articulation as one would need in a good rap microphone.
And the promo opportunity is not limited to musicians only. Lampifier has a stand up comedy microphone for example, as well as other speaking applications.
So how exactly does this Artist Endorsement program work? In a nutshell, the Lampifier company selects emerging artists with two qualities. First, they are good singers and their music features a distinct vocal presence. Second, they have some social networking momentum. That is to say, the artists have already created a significant fan base, have some good video footage and songs in place for download sale.
If a candidate meets these requirements in the company's discretion, a free microphone is sent to them to test in rehearsal and live show environments. The Lampifier microphone company asks the artist to make a few comments about their experience with the mic. A short promo video is cut together, which promotes both the artist and the microphone. Lampifier gains by virtue of the artist showing the video to their facebook followers so they can become familiar with the microphones features and benefits. The artist gains by being featured in Lampifier's exclusive newsletter as an emerging artist, where they reach thousands of potential new fans with an opportunity to sell their music directly. The artist also has the benefit of a high quality promo video, which helps to cement their image as a successful recording artist with even more momentum.
And just what is so great about these new microphones? First, each mic has a programmable, pro audio compression and noise gate circuit hidden right inside the handle of the mic. Unlike a standard audio compressor, the Lampifier compression is highly transparent and self adjusting, providing better articulation, clarity and crispness at all levels, loud and soft. The benefits include not having to "work the mic" to avoid unpleasant peaks and not "losing the vocal" in softer or more difficult to project passages. Instead the vocals ride easily in the mix, so everyone can hear the vocals better.
And of course, the better the singer can hear him or herself, the better vocal control he/she has, and the less vocal fatigue occurs over the course of a set. So it's a huge win, that a singer must experience firsthand to fully appreciate.
Needless to say, singers that try this mic are excited about it. As Second Soul vocalist Scott Yanke testifies, "These mics are great… I wouldn't sing without it… put it up against any compression, any time, and this one wins hands down."
If you are an emerging music artist who would like to be considered for the Lampifier Microphone Cross-Promotional Artist Endorsement program, please send an email to troy (at) lampifier (dot) com with "Artist Endorsement" in the subject line.
About the Lampifier® Company: The Lampifier Company is an innovator in audio engineering with the goal of rethinking the basics to provide important product improvements. Lampifier is a registered trademark and a dba of Music44.com, a privately held corporation and online retailer of sheet music and musical instruments.
Contact:
Troy Mulander
Lampifier Company, Music44
troy (at) lampifier (dot) com
###