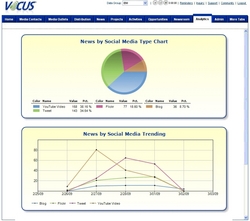 Since launching the PR industry's first on-demand solution more than a decade ago, Vocus has remained at the forefront of using innovative technology to help our customers improve their results and simplify how they do their jobs
Lanham, MD (Vocus) March 31, 2009
Vocus, Inc., (NASDAQ: VOCS) a leading provider of on-demand software for public relations management, today launched Spring '09, the latest version of its award-winning public relations management software.
Vocus Spring '09 features a new easy-to-use design of journalist and blogger profiles, enhanced reporting capabilities and integrated social media monitoring. The release features the software industry's first fully configurable home page, allowing Vocus customers the ability to organize their application based on their specific needs. Spring '09 also represents a complete redesign of the Vocus profile layouts, designed to match the social media style of leading sites such as Facebook and LinkedIn.
"Since launching the PR industry's first on-demand solution more than a decade ago, Vocus has remained at the forefront of using innovative technology to help our customers improve their results and simplify how they do their jobs," said Bill Wagner, chief marketing officer of Vocus, Inc. "Spring '09 raises the bar again and introduces many industry firsts that will make Vocus even easier to use and reduce the amount of time and money it takes for PR professionals to do their job."
Highlights of Vocus Spring '09 include:

Fully Configurable Home Page and Navigation -- Spring '09 is the first application that allows users to configure their systems to their personal preferences without limitations on the type, quantity or size of the content windows. Users can also change the look and feel of the navigation by simply dragging and dropping tabs.
Redesigned Journalist and Media Outlet Profiles -- Using feedback from customers and inspired by sites such as LinkedIn and Facebook, Vocus Spring '09 puts more content at users' fingertips and eliminates the need to scroll down to see crucial pieces of information.
Integrated Social Media Conversation Monitoring and Analysis -- Vocus' open architecture continues to allow customers to monitor and track conversations about their company and key competitors in both traditional outlets as well as social media sites such as Twitter, YouTube and Facebook. Through dozens of easy to understand charts and reports in Spring' 09, customers can gauge the comprehensive impact of both traditional and social media on their brand to understand and manage their organization's reputation over time.
Advanced Press Release Tools -- Spring '09 fully leverages PRWeb, the world's number one online news release service, to provide users with advanced tools to help their news generate more visibility on the internet. Vocus customers will be able to use advanced features to search engine optimize their release, inject link-building anchor text and embed images, directly from their Vocus console.
Comprehensive Reports to Showcase Success -- With Vocus Spring '09, customers can effortlessly create distribution reports to show everything from activities, to a listing of journalists who received and read their news to headline impressions, all in one automated report. Additionally, Spring '09 includes enhanced Executive News Summary Reports that allow customers to generate in-depth reports which call-out important articles and add language around key data points to better convey their impact.
Additional Event Listings -- Vocus Spring '09 includes Chase's Calendar of Events complete calendar with more than 12,500 entries covering 194 countries and 365 days. Chase is the most comprehensive and authoritative reference available on special events, holidays, federal and state observances, historic anniversaries and more and is not available in any other PR database on the market.
With its on-demand model, customers will seamlessly be transitioned to Spring '09 over the next few weeks with no software to download or IT-involvement required.
About Vocus, Inc.
Vocus, Inc. (NASDAQ: VOCS) is a leading provider of on-demand software for public relations management. Our web-based software suite helps organizations of all sizes to fundamentally change the way they communicate with both the media and the public, optimizing their public relations and increasing their ability to measure its impact. Our on-demand software addresses the critical functions of public relations including media relations, news distribution and news monitoring. We deliver our solutions over the Internet using a secure, scalable application and system architecture, which allows our customers to eliminate expensive up-front hardware and software costs and to quickly deploy and adopt our on-demand software. Vocus is used by more than 3,300 organizations worldwide and is available in seven languages. Vocus is based in Lanham, MD with offices in North America, Europe, and Asia. For more information please visit http://www.vocus.com or call 800.345.5572.
This release contains "forward-looking" statements that are made pursuant to the Safe Harbor provisions of the Private Securities Litigation Reform Act of 1995. Statements that are predictive in nature, that depend upon or refer to future events or conditions, or that include words such as "may," "will," "expects," "projects," "anticipates," "estimates," "believes," "intends," "plans," "should," "seeks," and similar expressions. Forward-looking statements involve known and unknown risks and uncertainties that may cause actual future results to differ materially from those projected or contemplated in the forward-looking statements. Forward-looking statements may be significantly impacted by certain risks and uncertainties described in Vocus' filings with the Securities and Exchange Commission.
###