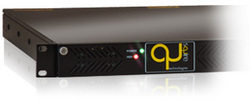 This is the 'Enableing Technology' at the core of our Award Winning services.
(PRWeb UK) March 28, 2011
In order to provide their retail and corporate clients with a seamless unified communication solution Telfree required at the core of their network a carrier grade Next Generation switch. This was delivered using Squire Technologies SVI-MG 1000 SS7 Media Gateway combining carrier grade SS7 interconnect with comprehensive support for next generation technologies SIP and SIGTRAN.
Ruan Malan, Chief Technology Officer, TelFree Group International quoted. "We have used Squire Technologies product for more than 5 years and I am delighted to have witnessed the high level of competence and commitment displayed by the team throughout this project. We could immediately see a considerable improvement over the old system. We are assured of a quick ROI and better service delivery options in partnership with Squire Technologies."
By replacing multiple Cisco units with a single SVI-MG, Telfree reduced the physical complexity of their SS7 to IP network resulting in a single management interface and significantly improved performance, throughput and reduced power consumption.
Sanjeev Verma, Squire Technologies Regional Sales Director, commented "Africa is experiencing rapid growth in the Telecommunications sector. In order to meet the needs of this growing market it is imperative for operators to implement scalable yet compact solutions keeping both CAPEX and OPEX low. Squire is in the unique position to meet these requirements efficiently and effectively."
The TelFree Group is a privately owned group of companies headquartered in Switzerland with extensive operations in South Africa, which provide value-added communication services of the next generation.
Squire Technologies provides leading edge NGN and TDM telecommunication products and solutions with world-class installation and support services to deliver carrier grade products worldwide. Supporting high availability, scalability and fully featured management system, catering for both small interconnect up to large international points of presence.
To implement Voice & SMS as part of your strategy, Ask The Experts and email enquiries@squire-technologies.com or call Tel +44 1305 757314
###