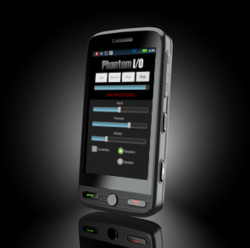 Albuquerque, New Mexico (PRWEB) March 01, 2013
Online videos, music, and games have just become a bit more interesting. PhantomLink.com is pleased to announce the release of Phantom I/O 1.7, a real-time voice scrambler app for Android smartphones and tablets.
Phantom I/O is able to create and decode scrambled voice messages that can be hidden in online videos, music, and games. To a casual listener, the scrambled messages sound like garbled noise. To anyone listening through the Phantom I/O app, the message instantly transforms back into normal speech.
An introductory video is available at http://www.youtube.com/watch?v=7w3KWtFsu_M
Phantom I/O provides an entirely new marketing tool for video producers, musicians, and game developers. Promotional coupons and special offers can be hidden in their products, waiting to be discovered by curious or thrifty consumers. This provides better product exposure because consumers spend more time watching, listening, and playing with products as they try to locate the hidden messages.
In addition to the voice scrambler feature, Phantom I/O includes an integrated voice changer. It includes several effects that can completely disguise a user's voice. The app works on live or recorded audio. Advanced signal processing techniques allow the app to work at a distance and in noisy environments.
Phantom I/O is currently offered on the Google Play Store (Android Market) for $0.99.
Phantom I/O was developed by PhantomLink.com, which specializes in do-it-yourself security solutions and wireless HD security cameras. Visit http://www.phantom-io.com or the Google Play Store (Android Market) for more information.