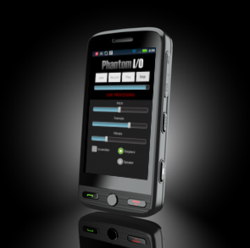 Albuquerque, New Mexico (PRWEB) March 12, 2013
Voice changer technology continues to advance with the release of Phantom I/O 1.7.1, a professional-quality audio processing app for Android. Phantom I/O combines standard voice changing features with a professional-quality voice scrambler and descrambler that creates and decodes secure voice messages in near-real-time.
An introductory video explaining the voice scrambler technology is available at http://www.youtube.com/watch?v=hma_q-ld81s.
Phantom I/O was originally developed as a professional-grade alternative to typical "toy" voice changers that only work on recorded audio samples. Phantom I/O features a "live" mode that can process audio in real-time. Audio is sampled through the microphone, processed, then played in real-time through the phone earpiece or headphones. This makes the app ideal for use for live studio and stage effects.
Phantom I/O combines its voice scrambler technology with several voice changing features, such as pitch shifting and modulation effects. The app uses advanced signal processing techniques and algorithms to provide exceptionally high audio quality with a low processor load.
Phantom I/O is also compatible with several types of band-inversion scrambling hardware. This makes it an affordable solution for testing and troubleshooting voice scrambling circuits for two-way radios and other mobile communications systems.
Phantom I/O is currently offered on the Google Play Store (Android Market) for $0.99.
A scrambled audio clip is available on the Phantom I/O webpage to demonstrate how the processed audio sounds. Those who download the Phantom I/O app can descramble the clip to hear the original message.
Phantom I/O was developed by PhantomLink.com, which specializes in do-it-yourself security solutions and wireless HD security cameras. Visit http://www.phantom-io.com or Google Play (Android Market) for more information.