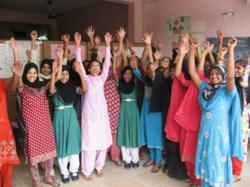 (PRWEB) September 01, 2012
Global challenges across the spectrum of women's rights comes down to the power of choice, and women's ability to make decisions that impact her own future. VOICE 4 Girls is an organization based in India that strives to build the confidence, knowledge, and communication skills of adolescent girls so she has the power to speak out about for her dreams and make plans for her own future. The Camp VOICE summer program has been educating girls on English speaking and practical, life topics, like hygiene, changes in the body, and protection from harassment, for two years, and starting in September, they will be bringing boys and girls together through a co-ed, yearlong school curriculum to start a dialogue on gender issues in the nation.
"Women's empowerment doesn't happen in a vacum," explains Averil Spencer, VOICE Executive Director. "From adolescence, boys also need to be sensitized to gender equality and teamwork among the sexes so as they grow older and become husbands and fathers they understand and respect women as equally capable in the family and society." Traditionally, even in co-ed schools, boys and girls sit on opposite sides of classrooms, and many games or competitions have always pitted girls against boys. This new approach at co-education in India will be radical, but it will allow boys and girls to learn about each other and themselves. As gender equity become an established premise in classrooms, students will propel this premise into their homes, communities, and society. Through a trickling effect, VOICE seeks to change the hostile environment that girls face in India.
The VOICE programs utilize engaging, activity-based lessons, designed for students to learn through discussion, role play activities, dance, and games. Building a dialogue around these topics, as opposed to the traditional style rote learning most commonly found in Indian classrooms, is extremely important in dispelling gender stereotypes and myths and reinforcing values of equality in students at this pivotal age in development. "Our approach of engaging boys and parents is a more holistic method of improving opportunities and treatment of women, and works towards influencing behavioral and attitude changes in communities," says Allison Gross, VOICE co-Founder.
This co-ed, yearlong program will be incorporated into the academic curriculum of 27 schools in Hyderabad and reach 5,000 students in the pilot. This program is part of VOICE 4 Girls' larger efforts to expand Camp VOICE summer program and year long acadmic program to 100 schools by 2013, increasing their reach by 15,000 students and expanding into two new regions in India. With further support and partnerships, VOICE plans to target hundreds of thousands of students across the Indian subcontinent and influence a positive shift in the attitudes and treatment of women in the country.