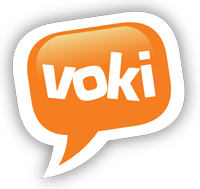 The Voki Team created these characters because kids love fairy tales.
New York, NY (PRWEB) April 24, 2013
Voki, the leading online solution for using speaking animated characters for education, has just released a new fairy tale cast of characters to be added to their repertoire. The characters are available now to all Voki and Voki Classroom users. The new fairy tale characters include a princess, prince, knight, court jester, unicorn, fairy, gnome, mermaid, witch and genie. The characters also come with fun accessories, like wands & wings for the fairy, color tiaras for the princess, and different suits of armor for the knight.
Educators and Voki advocates constantly request additional animated speaking characters. "The Voki Team created these characters because kids love fairy tales. With fairy tale animated characters, teachers can now incorporate a bit of "magic" into their lessons", said Eric Kiang, Director of Marketing for Voki.
The release of the Fairy Tale characters received positive feedback from users. A teacher Audrey Schuler said, "I just tried one of the fantasy characters, a fairy. I used it to help with a school project on a fantasy book. It really helped and everyone loved it. I had it talk and say things for my project." An elementary teacher said, "When I announced to my class that you'd added Fantasy characters they were very excited."
To see the new Fairy Tale characters in action, please visit the Voki Create page and click on the Fantasy category.
About Voki
Voki was launched in 2007 to enable teachers and students to use speaking animated characters for teaching & learning. Students can select from many different types of characters, customize them with different hairstyles, clothing and other accessories, and enter text for the characters to speak in over 25 languages. Students can also record their own voice for the animated character to speak. Voki has over two million registered users and is used by teachers in over 70 countries to make teaching and learning fun!
About Voki Classroom
Voki Classroom is a classroom management system for Voki. Voki Classroom is designed to enhance the way teachers manage students' Voki assignments and make both class work and homework more efficient, by automatically organizing student's work for display, and by automatically creating individual workspaces for students and specific assignment pages for each lesson. View the Voki Classroom introductory video to learn more!
Contact
For further information, contact the Voki Team at info(at)voki(dot)com.