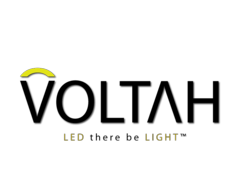 Now is the time for consumers to transition to LED technology, and with the warm, bright and cost-effective light of a Voltah bulb now available, there's no reason to wait.
Jacksonville, FL (PRWEB) March 21, 2013
Voltah today announced the launch of its first product in the United States, an innovative and cost-saving replacement for incandescent bulbs that will transform the way Americans light their homes and businesses. This groundbreaking new light bulb uses energy-efficient LED technology to create the warm, bright light consumers crave while avoiding the drawbacks associated with mercury-based lighting products.
Similar to a standard 50-watt incandescent bulb, Voltah's new cost-saving bulb emits 600 lumens of warm bright light. However, the Voltah bulb uses significantly less power and lasts 25 times longer than an incandescent bulb, shining brightly for up to 25,000 hours. And unlike compact fluorescent light bulbs (CFLs), Voltah's LED bulbs do not contain mercury, reducing environmental impact and mitigating safety concerns for users.
During the next six months, Voltah will launch up to eight more LED products in the U.S., ranging from an affordable 470-lumen LED bulb intended to replace 40-watt incandescent bulbs to a high-end LED panel fixture for large light displays. Also in 2013, Voltah will launch a line of industrial lighting in South America that applies this same state-of-the-art technology to commercial products such as street lights, high bay lights and floodlights.
"We are delighted to begin launching this fantastic product in the U.S.," said Voltah Co-Founder Juan Olea, "and we're just getting started! We have plans to add more pioneering LED products to our existing line very soon. Voltah is gaining new distributors every day, and we're well on our way to providing aesthetically-pleasing, energy-efficient, money-saving and eco-friendly lighting solutions throughout North and South America."
"During the next few years, incandescent bulbs will continue to be phased out in favor of more energy-efficient technology," Olea continued. "Now is the time for consumers to transition to LED technology, and with the warm, bright and cost-effective light of a Voltah bulb now available, there's no reason to wait. I'd urge anyone to try one of our special LED bulbs and experience the quality and cost effectiveness it brings to their home or business!"
To find the Voltah product that best suits their needs, consumers may visit the company's website at http://www.VoltahLED.com and on March 26th, consumers will able to explore the "Voltahlator" feature, which details the benefits of an LED investment and creates a personalized year-by-year savings analysis. In addition to offering the Voltah LED 8.5 watt, 600-lumen bulb for purchase, the site offers consumers the opportunity to sign up for the Voltah BbyB Option, which provides a monthly shipment of bulbs to assist in the gradual transition to LED technology.
Because of its versatility and low cost, LED lighting technology is modernizing the industry, and Voltah is at the forefront of this lighting revolution. Voltah products will soon be coming to retailers everywhere.
About Voltah:
With offices in Jacksonville, Florida and Santiago, Chile, Voltah is a global lighting company that offers residential and commercial LED products of quality, performance and value. Through its products, Voltah strives to brighten people's lives while saving them money and creating a cleaner planet. The Voltah brand is owned by Enterra Group, which launches, develops, distributes and invests in global brands that provide sustainable, innovative and eco-friendly solutions.
For more information, visit http://www.VoltahLED.com or e-mail us at press(at)VoltahLED(dot)com