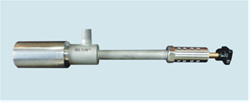 Frigid-
The Nex Flow™X™ Vortex Tube is used is used for spot cooling in all types of applications – tool cooling, cooling nip rolls, laser cutting, camera cooling, enclosure cooling, etc.
A vortex tube takes ordinary compressed air and splits it into a hot and cold stream with no moving parts. It is normally supplied with an adjustable hot end screw to set the temperature and flow rates with the use of a screwdriver. Now, an optional hot end assembly c/w a built in muffler is available to set the temperature and flow without the need of a screwdriver.
This improved ease of use allows it to be adjusted as necessary quickly and easily in any application for which this is an advantage. An additional muffler can be added to the cold end air exit for additional noise reduction. A vortex tube has no moving parts in its operation, uses no electricity and is essentially maintenance free.
The Nex Flow™X™ Vortex Tube is superior in design using stainless steel construction and metal parts for long life – no plastic parts which can crack over time.
Yet it is low in cost compared to many others.