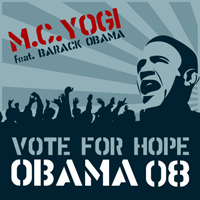 With the 2008 presidential election, Americans face a pivotal choice between not just two candidates, but two paradigms
Point Reyes Station, CA (PRWEB) October 13, 2008
In just over three minutes, MC Yogi's "Vote for Hope" video crystallizes the ideas of change, hope, participation and creativity so closely associated with Barack Obama's presidential campaign. The song (available as a free download from White Swan Records), adds MC Yogi's positive, politically conscious rhymes to samples of Barack Obama's landmark speech from the 2004 Democratic National Convention.
Arriving in the eleventh hour of this historic election season, this soulful track is rapidly propagating across the Internet and garnering acclaim for its touching beauty and affirmative message. With nearly 30,000 unique YouTube views in only a week (and comments like "The best campaign video of the season, maybe ever"), "Vote for Hope" represents the power of hip hop as a positive force for change--and serves as a rallying cry for those eager to set that change into motion.
Says MC Yogi "Barack Obama is a catalyst for our generation. 'Vote For Hope' was written to encourage and inspire the hip hop generation--and everyone--to get involved, and contribute their time, energy, creativity, and other resources to be the change they want to see in the world. We have been inspired by the artistic and musical contributions that have been pouring out across the nation in support of Barack Obama's campaign. 'Vote for Hope' is our offering to this creative movement. It is our way of adding our small voice to the collective voice of millions of Americans calling for a change.
"With the 2008 presidential election, Americans face a pivotal choice between not just two candidates, but two paradigms," explains MC Yogi. "We need someone that understands the complexity of our time. Barack represents the change required to shed the old system and will lead us into a more sustainable world."
The mission to spread the "Vote for Hope" message began in late August. With the help of his record label and a small, tireless street team, MC Yogi handed out nearly 10,000 copies of the song in the streets of Denver during the Democratic convention. Reception was overwhelmingly positive and an additional 5000 copies of the single have since been reprinted for distribution at Obama campaign events and fundraisers.
MC Yogi traces his inspiration for "Vote for Hope" not just to Obama's campaign message, but also to the words and deeds of his idol, Mahatma Gandhi. Recognizing similarities between the icon of Indian independence and Barack Obama, MC Yogi is in the final stages of producing a video for "Be the Change", the first single from his stunning yoga hip hop debut, Elephant Power (released September 9th by White Swan). This powerful release brings together his twin loves for Indian music and mythology and infectious hip hop beats.
The "Vote for Hope" and "Be the Change" videos, featuring state-of-the-art animation techniques conceived by MC Yogi and inspired by the work of Obama "Hope" poster artist Shepard Fairey, were produced at Ursa Minor Studio in San Rafael, CA. The videos will soon be released together and disseminated across the web as a widget.
With "Vote for Hope", MC Yogi distills the powerful message of his dual heroes, Obama and Gandhi, into a positive hip hop expression of what's possible. It's an idea echoed by Obama himself in an interview given earlier this year: "hip hop is not just a mirror of what is, it should also be a reflection of what can be."
Who is MC Yogi?
Yoga instructor/studio owner/rapper/former graffiti artist Nicholas Giacomini (aka MC Yogi) is the visionary force behind "yoga hip hop." Bringing together his twin loves for Indian music and mythology and infectious hip hop beats, MC Yogi creates an exciting new sound for a new generation of modern mystics, urban yogis, and conscious hip hoppers.
Nicholas and his wife, Amanda, own and operate Yoga Toes Studio in Point Reyes Station, CA.
For more information and to hear MC Yogi's new album, Elephant Power, please visit http://www.mcyogi.com.
Contact:
Joel Davis, Label Manager
White Swan Records
303/527 0770 x. 106
http://www.whiteswanrecords.com
###