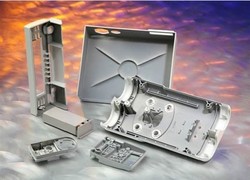 This contract continues a long and mutually beneficial partnership between VTI and the Department of Justice, a branch of the U.S. government
Reedsburg, WI (PRWEB) February 2, 2009
VTI Vacuum Technologies Inc. was awarded a $4.8 million contract over 5 years by the office of Federal Prison Industries/Unicor, president and founder Guillermo 'Wil' Fernandez announced. Unicor is owned by the Department of Justice. The contract covers 300,000 components used in a battery pack assembly that powers military radio systems. The Unicor solicitation was first posted on November 19, and the contract award was posted on December 19, 2008 by Unicor.
The contract requires that VTI provide a corrosion-resistant topcoat, EMI shielding, and outsourcing of the CARC (Chemical agent resistance paint). The components are assembled into a battery pack which is used in a military SINCGARS (single channel ground and airborne radio system) communications device.
"This contract continues a long and mutually beneficial partnership between VTI and the Department of Justice, a branch of the U.S. government," stated Fernandez. The Department of Justice's Federal Prison Industries/Unicor contracts with the private sector to manufacture electronic components at one of their locations. "The components used in these radio system battery packs need to be protected in an electronically noisy environment in order to function properly for our military personnel. VTI is privileged to protect the operability of these communication devices that are used by our military throughout the world in sometimes very hostile environments. We are looking forward to bidding on future shielding opportunities posted by Unicor or other branches of the government."
About VTI
VTI Vacuum Technologies Inc. is a privately-held company established in May 1993 in Reedsburg, Wisconsin. An ISO 9000-2000 certified company, it specializes in coating plastic electronic enclosures by providing EMI/RFI (electromagnetic interference/radio frequency interference) solutions for design engineers in the medical device and military communications markets. VTI Vacuum Technologies also provides value added process capabilities of robotically dispensed cure in place gasket materials to plastic or metal components. VTI also offers a corrosion resistant topcoat and has served as a prime contractor of CARC (chemical agent resistant coating on metalized plastic enclosures) for military metalized coating applications.
More information about EMI shielding and other applications performed by VTI can be found on its website:
http://www.vactecinc.com/index.htm
###