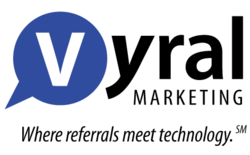 Being able to leverage my time with Vyral Marketing is indispensable.
OMAHA, Nebraska (PRWEB) March 10, 2013
New Haven, Connecticut real estate expert Jonathan Carbutti of Carbutti and Company Realtors has been an enthusiastic user and supporter of Vyral Marketing's "done-for-you" education-based customer database video marketing program for about two years. Motivated by the success of the program, Carbutti recently decided to apply the same Vyral Marketing video blogging concept to launch his real estate agent recruitment campaign.
The results have been so great, Carbutti says, that Carbutti and Company Realtors have been
elevated to a new level of success in the local market.
"The Vyral Marketing video marketing program has been a game changer, first with my real estate video blog, and now with my agent training video blog," Carbutti says. "It has been instrumental helping us establish our firm as one of the most relevant brokerages in the New Haven area."
Before establishing the agent training video blog, Carbutti says that his firm actively pursued other agents to join their team. Since launching the agent training videos, however, Carbutti says agents are beginning to pursue him. In fact, the firm quickly grew from 12 to 28 agents, although Carbutti has tapered that count back to 23.
"I have to be careful because I was hiring way too quickly at first, the response was so great," he says. "But now our philosophy is to hire slowly; I want to be extra careful that we hire and attract the "right" agents that align with our core values and fit in with our office culture.
"The video training blog has helped establish us as a resource for the local agents, and at the end of the day that is what agents are looking for," Carbutti says. "Vyral Marketing makes it extremely easy for us – all we do is shoot some quick videos and send them over to Vyral Marketing, and they do the rest – editing, database management, emailing – all of the "behind the scenes" work.
"Being able to leverage my time with Vyral Marketing is indispensable."
Carbutti says other agents are also impressed with the video blog's effectiveness, and possibly a little bit envious; the video blogs have given him a clear competitive advantage in his marketplace.
"They think that we're spending hours upon hours on it," Carbutti says. "In fact, one agent asked me when do I have time to sleep, but he doesn't realize that I spend about one hour recording three videos every six weeks, and that's it."
Carbutti established his original real estate video blog in 2011, which helped him position himself and his firm as the local real estate expert, he says. He began by sending two educational videos to his customer database monthly, and soon discovered some added benefits he hadn't expected.
"The blog does a wonderful job automatically incubating and maturing those people who are not
yet ready to purchase or sell," Carbutti says.
Case in point, Carbutti received a cold call one Wednesday afternoon from an engaged couple
– he had a condo to sell, she had a small house to sell, and together they wanted to purchase a
larger house. As he was leaving Carbutti's office after the initial consultation, the gentleman turned and said, "By the way, we love your videos, which is why we decided to use you."
Carbutti was able to determine that the couple had originally been anonymous registrants on the
firm's website and therefore had been receiving the video blogs for three months before they had decided that they were ready to move forward. Carbutti was able to sell both of the couple's existing properties, and helped them find and purchase a new construction home for $345,000.
The videos help Carbutti's customers by providing relevant and easy-to-understand content geared either toward a buyer or a seller. He takes an educational approach first and foremost, he says, and wants to be seen by customers as a consultant, rather than coming at them from a sales position.
"We're always trying to convey value and the benefits of using a local real estate expert," Carbutti says. "Town video tours that we have started incorporating into our blog have helped tremendously in showing people that we are the local experts, especially with our out-of-state buyers and people relocating."
To learn more about Vyral Marketing's data-based video marketing service for businesses, request a free consultation, visit the Vyral Marketing website, call 1-800-323-9974, or Email frank(at)getvyral(dot)com.
About Vyral Marketing:
VyralMarketing.com was launched in 2009 by Frank Klesitz to provide "done for you" education-based customer database marketing services to businesses and independent service professionals. Vyral Marketing offers a cost-effective complement to traditional advertising that results in more referrals and repeat sales. Businesses who follow the Vyral Marketing program for 12 months can expect at least 10 percent of their customer database to buy again or refer others.
For a flat fee of $525 per month, Vyral Marketing customers receive video editing, custom article writing, social media marketing, Email marketing, and personalized feedback and coaching. In 2012 alone,135 Vyral Marketing clients recorded more than 2,600 informational videos for distribution to their customer databases. Each Vyral Marketing client receives a monthly coaching call to receive personalized topic recommendations and scripts upon request. Vyral Marketing also provides a staff of video editors, writers and administrative personnel to handle the entire process, including distribution to the client's customer database via Email and social media.
###