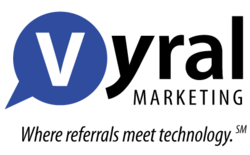 You're going to take your business to the next level.
OMAHA, Nebraska, (PRWEB) March 22, 2013
Since incorporating the Vyral Marketing database marketing plan into his firm's promotional strategy, Philadelphia real estate broker David Wyher says new client inquiries and heightened brand awareness have given his firm a solid edge over the competition. The President of Philadelphia brokerage firm Northpoint Real Estate 360, Wyher is a savvy marketing strategist and enthusiastic proponent of communication through innovation, which is what attracted him to the Vyral Marketing plan to begin with.
Wyher implemented Vyral Marketing's fast-growing video marketing program to help meet the challenges he faced promoting his brokerage firm in the competitive minefield that is the Philadelphia real estate industry.
A dedicated professional who places a high priority on maintaining clear communications channels with clients, Wyher is well aware of the power of creative, well-executed marketing strategies that keep him connected with his customer base. The Vyral Marketing Email database plan feeds Wyher's demand for excellent customer communications while providing a valuable service through his twice-monthly educational videos.
Since establishing Northpoint 360 Real Estate as a premier brokerage firm with an international reach, Wyher has worked to establish his reputation as an educator among buyers and sellers. Vyral Marketing's "done-for-you" customer database marketing plan helps fulfill that function while enhancing his profile with a minimal time investment.
"People see my videos and they recognize me, and they remember me when they're ready to buy or sell a home," Wyher says.
Wyher was surprised not only by how quickly his own educational videos gained an enthusiastic audience, but also by the brief time commitment involved.
"It takes me less than 30 minutes each month to make two informative videos for my customers, and Vyral Marketing handles everything else, from editing to distribution," he says.
"This is the most efficient way I know of to reach my Email database consistently, in a format that they remember – you can't find this kind of value in just any marketing strategy."
The benefits, Wyher says, surface when he least expects.
"The other morning I went on an expired listing appointment for a property owned by a Florida woman," Wyher says. "I spoke to the son, I gave him my pitch and he called his mom in Florida with whom I will be listing. She Googled my name and my Vyral Marketing videos came up. She and her son started watching them and their decision to list with me was made – the videos did it for them.
"The videos have definitely elevated my profile."
Most importantly, Wyher says, when considering the sheer volume of copy and marketing information that is thrown at consumers every day, he prefers the option of offering a short, educational video that is easily distributed on social networks.
Vyral Marketing helps Wyher structure his video presentations and coaches him on relevant topics that are known to draw viewers nationwide, a service he finds invaluable.
"I've got a lot of people asking me how the Vyral video strategy is working out for me and I'm happy to tell them that we're elevating our profile and we're adding new people to our database strictly because they're catching our videos."
And, since views of each Vyral Marketing video can be tracked, users like Wyher can follow up with potential customers who have opened a video and watched it.
"Working with Vyral Marketing, you're going to take your business to the next level," Wyher says. "We're getting more people calling us now, we're not doing all the chasing anymore. It's very rewarding.
To learn more about Vyral Marketing's education based video blogging service for businesses and real estate firms, request a free consultation, visit the Vyral Marketing website, call 1-800-323-9974, or Email frank@getvyral.com.
About Vyral Marketing:
VyralMarketing.com was launched in 2009 by Frank Klesitz to provide "done for you" education-based customer database marketing services to businesses and independent service professionals. Vyral Marketing offers a cost-effective complement to traditional advertising that results in more referrals and repeat sales. Businesses who follow the Vyral Marketing program for 12 months can expect at least 10 percent of their customer database to buy again or refer others.
For a flat fee of $525 per month, Vyral Marketing customers receive video editing, custom article writing, social media marketing, Email marketing and personalized feedback and coaching. In 2012 alone,135 Vyral Marketing clients recorded more than 2,600 informational videos for distribution to their customer databases. Each Vyral Marketing client receives a monthly coaching call to receive personalized topic recommendations and scripts upon request. Vyral Marketing also provides a staff of video editors, writers and administrative personnel to handle the entire process, including distribution to the client's customer database via Email and social media.
###