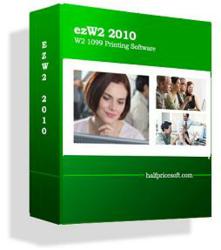 We always keep in mind that our customers are small business owners, not computer whizzes or financial gurus.
New York, NY (Vocus/PRWEB) January 21, 2011
Listening to the needs of customers, Halfpricesoft.com has developed the new ezW2 software to speed-up and simplify forms 1099 and w2 filing for Year 2011 tax season.
ezW2 software prepares and prints 1099 and W2 forms for employees and vendors, including the multiple copies of each form required by U.S. tax law. ezW2 also prepares and prints Form W3 and Form 1096.
The new edition of ezW2 software is more user-friendly and powerful than ever. User can import data from csv file - which will save users valuable time by entering such information one by one. ezW2 2010 also electronically prints W2's, 1099's and other forms in portable document format (PDF) for delivery to employees and vendors by email or other electronic means, eliminating the need for unnecessary paper copies.
Small business owners love ezW2 software because it is simple and flexible to use, handles all their w2 and 1099 filing needs and is very affordable. ezW2 tax application is designed for use by non-accountants with minimal computer skills. However, even accountants like it because it is so flexible and supports unlimited accounts with one flat rate.
"We believe payroll and tax software should be designed for the non-technical people who are actual end-users," explains Mark Ge, President and Founder of halfpricesoft.com. "We always keep in mind that our customers are small business owners, not computer whizzes or financial gurus. But that makes them the best possible people to listen to when designing payroll software, so we include them as members of our design team."
ezW2's interface is so intuitive and user-friendly that first time users can start printing forms w2 or 1099 immediately. The long learning curve typically associated with financial software is non-existent with ezW2, even if the user does not have an accounting background.
ezW2 software saves money for small businesses in 8 key ways:
(1) ezW2 2010 can print 2 forms on one sheet—using half as many expensive red form sheets
(2) ezW2 2010 eliminates need for W2 Copy A and W3 by laser printing Social Security Administration-approved substitutes on plain white paper
(3) Users save valuable time by eliminating the learning curve - ezW2 2010 is designed to be simple and intuitive, allowing users to get started right away
(4) Users save valuable time by importing employee data and contractor data from csv file - no need for users to enter the data one by one.
(5) Users save even more time by saving form data for later use and modification
(6) Support unlimited accounts with one flat rate
(7) PDF document converting
(8) At $39, ezW2 is among the lowest priced, full-featured software available for small businesses.
Business owners can try ezW2 risk free
New customers can make sure ezW2 meets their needs by trying the software risk free. The trial version is fully functional and there is no time limit to the trial offer. The trial version of ezW2 is limited only by printing a "SAMPLE" or "DEMO" watermark on printed forms. To unlock the software for printing actual W2 and 1099 forms, customers simply purchase a license key online at http://www.halfpricesoft.com/w2-software-free-download.asp.
To learn more about ezW2, 1099 and W2 printing software, please visit:
http://www.halfpricesoft.com/w2_software.asp
Or check YouTube Video: Fast 1099 reporting
http://www.youtube.com/watch?v=EB5RRCBveP8
About halfpricesoft.com
Founded in 2003, Halfpricesoft.com develops and distributes a wide range of small business software titles that are affordable and easy-to-use, including ezW2. Additional titles available from Halfpricesoft.com include ezCheck Personal Edition, ezCheck Printing, ezPaycheck 2011 and ezTimeSheet. The Halfpricesoft.com web site also contains resources and links to help small businesses with their payroll, accounting and tax reporting needs.
For More Information Please Contact:
halfpricesoft.com
P.O. Box 17067 Louisville, KY 40217 USA
email: contact(at)halfpricesoft(dot)com
Fax: (866) 909-6448
or visit the Web Site http://www.halfpricesoft.com/w2_software.asp
# # #