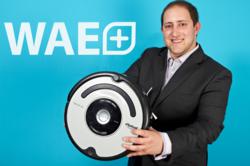 We have already enjoyed increasing sales thanks to the range of discounted goods we offer
(PRWEB UK) 20 September 2012
WAE+, one of the fastest growing online retailers, has implemented a series of website updates aimed at improving and streamlining customers' buying experience.
As a result of the retailer's programme of on-going website improvements, its customer base has increased exponentially in the last quarter.
The online retailer, which is on target to exceed its projected £1.5 million first year revenue, sells consumer electronics, office supplies, parts and components and wholesale food and drink products. With 125,000 immediately-available products, WAE+ has the widest range provided by any online UK retailer.
Darren Cresswell, Technical Director at WAE+, comments: "We are still growing as a company, so our business plan remains focused on attracting new customers and converting them quickly. Our technical team has used in-house expertise to develop a sophisticated IT system with complex algorithms which collect and analyse data for improved customer experience."
Specific new website features include a live price comparison function, which enables customers to price check core products against major retailers. Powered by an independent third party, the comparison function demonstrates WAE+'s confidence in its prices and saves customers time and effort when making purchasing decisions.
Further updates include:

a simplified check out process
live chat, launched at the start of September
24/7 availability of customer service via an intuitive contact response system
product page improvements such as product videos, which will go live in October.
Darren continued: "Our website is an "online department store" without the stress and the queues and we have already enjoyed increasing sales thanks to the range of discounted goods we offer. Our conversion rate should continue growing as a result of our aggressive website improvements schedule.
"The new features and functionality will also provide more data to help to beat competitors while meeting our customers' expectations. We'll continue listening closely to what customers want and providing a strong product range at exceptional prices, meeting demand both now and in the future."
WAE+ offers approximately 125,000 products and caters to a variety of industries, including consumer electronics, office supplies, parts and components, and wholesale food and drink.
For more information on WAE+'s selection of discounted products, visit http://www.waeplus.co.uk or call the sales team on 0203 642 8482.
About WAE+
WAE+, one of the fastest growing online retailers, offers 125,000 products including office supplies, consumer electronics, parts and components and wholesale food and drink. The retailer's sourcing strategy and ecommerce platform enableit tosella large range of discounted products.
Headquartered in Birmingham, WAE+ originally sold office supplies to thousands of businesses across the UK and has since branched out to selling related products to both businesses and consumers.
Since the company's, inception, the team has focused on three key areas: range, value and customer service.
WAE+ offers a lowest price guarantee on its core range and has a growing customer service centre committed to providing an efficient and reliable dispatch service, backed up with efficient and polite customer service.