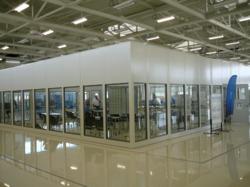 Free standing wall partitions are an efficient way to create defined areas without undertaking major renovations to a space.
(Vocus/PRWEB) January 12, 2011
Office and industrial design professionals often have to consider appearance and durability when selecting wall partitions. Unfortunately, most of the office partitions on the market today favor appearance over durability and stability. However, PortaFab Modular Building Systems has developed a product that bridges the gap with its new free standing wall system. Meeting the industry's 5 lb. per lateral load requirement for walls over 60", the PortaFab line of free standing walls is more durable and stable than traditional office partitions while still looking sleek.
"We are seeing an increase in free standing wall requests lately as companies are expanding but want to work within existing office or plant space footprints," said Wayne McGee, President of PortaFab. "Free standing wall partitions are an efficient way to create defined areas without undertaking major renovations to a space. Plus, because they meet the 5 pound per lateral load industry requirements and are more durable than standard cloth office partitions, they can be used in more applications than traditional office partitions."
PortaFab's free standing wall partitions are constructed using the OmniFlex 300 system. The system's free standing steel wall supports enable the system to be installed in virtually any space without needing to be anchored to a load bearing wall or structure. Walls can utilize a variety of composite panels including steel-faced panels, fiberglass reinforced panels, hardboard or aluminum honeycomb panels; however most companies select PortaFab's Fire and Sound Panels for their sound reduction and thermal properties.
"Standard office partitions do not meet lateral load requirements and are typically not recommended for industrial applications. For in-plant and industrial settings, walls above five feet tall are very common so meeting these load bearing requirements is mandatory. Even in office settings, however, the added durability and stability of these wall systems reduces the risks associated with typical cloth office partitions," said McGee.
Free standing wall partitions are also not limited to standard shapes and finishes. The three inch wall panels come in a variety of heights and can be painted custom colors in order to match the existing interior design of an office or industrial space. Many companies also install window panels at the top of the wall partitions in order to allow light to flow between areas and to support supervision efforts.
"Companies are installing these wall partitions for applications as diverse as bulletin boards and laser rooms as well as more traditional applications like in-plant offices and manufacturing cells. By installing wall partitions instead of complete offices, all of the existing lighting and HVAC systems can be utilized. This can translate into major energy savings and is an effective way to renovate almost any space without committing to a major construction project," said McGee.
About PortaFab
Located in Chesterfield, Missouri, PortaFab has been a leader in the manufacturing and design of pre-engineered modular building systems for over 25 years. PortaFab offers a full line of modular building systems and specialty construction products with unlimited flexibility and choices. Product categories include Modular In-Plant Offices, XTRA-TALL Walls, Cleanrooms, Booths and Shelters, Mezzanines, Wall Partitions, and Composite Panels. PortaFab's products are sold through a network of over 500 distributors, many of whom offer assistance in design and construction. For more information, visit http://www.portafab.com or call 1-800-325-3781.
###