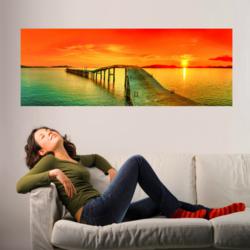 When visualizing Fab-Tac, think: favorite art print or poster meets wall decal.
Nashville, TN (PRWEB) September 20, 2012
Nashville-based company Walls Need Love recently released a new line of wall decals made from an eco-friendly, completely reusable material known as Fab-Tac. This new product line of adhesive canvas wall graphics joins the family of Walls Need Love wall decals, which made of a specialty vinyl. The new wall graphics are appealing to home owners, businesses, and renters seeking innovative wall décor solutions that do not damage walls, harm the environment, or require difficult or costly framing or hanging.
Walls Need Love owner Ali Abrahimia has long been an influencer in the design space, originally starting with a mall kiosk selling vinyl art for car windows and then launching a web-based wall decal company. Mr. Abrahimia's desire to revolutionize the world of wall art has led him to expand his website to offer a wide variety of classic and modern wall decal designs that are highly customizable and suitable for a wide range of styles and venues. The Walls Need Love owner recently commented on the new Fab-Tac line of wall graphics, the newest product line in his ever-expanding décor company: "When visualizing Fab-Tac, think: favorite art print or poster meets wall decal. This thin canvas, which can be applied directly to any wall or smooth surface, will not wrinkle, tear, or crease and can be reapplied time again to any new smooth surface without the graphic losing its stickiness."
Mr. Abrahimia's demonstration of a Fab-Tac wall graphic showed just how simple it was to select the desired product on the website and then apply the design to the wall. Customers select the "prints" tab on http://www.wallsneedlove.com and choose from one of the following categories: state art, fine art, people, places, scenic, nature, avantgarde, architecture, music & film, or education. The demonstration continued as Mr. Abrahimia chose the "nature" prints category and then selected that "scenic boardwalk" graphic. This print was available in two price and size points, a smaller size under $30 and a larger one under $70; in addition, color and black and white choices were available. Application of the wall graphic to a wall behind a couch was simple: peel the backing off the Fab-Tac, apply the adhesive backing the wall, and smooth out if necessary. Mr. Abrahimia even removed the recently applied graphic and reapplied it several times to different wall surfaces to demonstrate the sticking and re-sticking nature of the product. If the adhesive canvas stuck together, it pulled apart with ease and without damage to the product.
With a personal passion for environmental preservation and in line with an increasing number of consumers seeking attractive design solutions that are not harmful to the environment, Mr. Abrahimia was committed to developing wall graphics that were just as visually appealing as they were eco-friendly. The canvas Fab-Tac itself does not contain VOCs (volatile organic compounds) and the ink used to print the graphics is aqueous (water-based). As an influencer in the ever-growing design space, Mr. Abrahimia seeks to lead the way for other wall decor companies to produce high quality, eco-friendly designs that fulfill customer's desire for beautiful, affordable, wall-friendly, and environmentally sustainable art.
Walls Need Love is a Nashville-based company committed to providing innovative, attractive, and affordable wall art that does not harm walls or the environment.