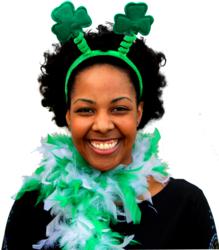 Wally's has compiled a list of seven ways to wear green on St. Patrick's Day.
Ennis, TX (PRWEB) March 07, 2013
St. Patrick's Day is just a few weeks away and Wally's Party Factory wants to make sure you don't fall victim to any unwelcome pinches this year by helping you accessorize with St. Patrick's Day party supplies. Wally's, which is the nation's largest privately-held chain of family-owned independent party supply stores, has compiled a list of seven ways to wear green on St. Patrick's Day.
1.) On your fingers- Bring out the bling! Slip on a flashing light up ring to show your green and sparkle from afar.
2.) Around your neck- Claim your Irish heritage for a day with a satin sash. After all, on this day, everyone is Irish! Or embellish any outfit with an assortment of shot glass or mug beads. They are the perfect party accessory to use and to hand out to your friends! Even just a few strands can make you a wee bit Irish!
3.) On your head –Show your shamrockin' spirit with a St. Patty's headbopper, go green with a glitter derby hat or be a princess with a St. Patrick's Day light up tiara.
4.) In your hair- Liven your locks with green clip-on hair extensions. They are easy to attach and will deck out any 'do.
5.) On your ears- Your green will definitely be seen with light-up earrings. Just turn them on and you're good to glow!
6.) As a mustache - Embrace the trend of moustache mania with a groovy green stick-on 'stache. Just stick the green mustache under your nose and you're ready to party!
7.) On your eyes- Rain or shine, a pair of flashing light up shamrock shades or beer mug glasses will have you seeing green all day long.
It hasn't always been tradition to wear green on St. Patrick's Day and some accounts have noted that blue was actually the first color associated with the holiday. This started to change in the 17th century due to Ireland's nickname, "The Emerald Isle," and also because of the color green in their flag. Of course, it is also said that wearing green on St. Patrick's Day makes you invisible to pinching leprechauns.
"St. Patrick's Day party supplies are a blast to wear, to use for home and office décor and – of course - to eat and drink with," says Jonathan Erwin, vice president of Wally's Party Factory. "We encourage everyone to wear green and celebrate St. Patrick's Day to the fullest."
Wally's offers an extensive selection of party supplies and balloons for all occasions, and themes including an extensive St. Patrick's Day party department with balloons, décor, party favors, wearables and accessories.
Wally's Party Factory has a company-wide commitment of appreciation for those that serve our community and nation by offering a 10% in-store discount to educators and members of the armed forces.
About Wally's Party Factory:
Wally's Party Factory, based in Ennis, TX, is the largest multi-channel privately held, family-owned chain of independent discount party supply stores in the United States. Wally's, which also operates in some locations as Card & Party Factory, Christmas Discount Warehouse (temporary Christmas stores) and Wicked Wally's Halloween Costumes (temporary Halloween stores) began over two decades ago and has grown steadily into one of the nation's best party-supply and Halloween costume merchants. Wally's is devoted to helping its customers celebrate the most important events in their lives by providing unrivaled customer service, offering an excellent selection of the best products, and pricing those products competitively. Wally's also gives back to local communities, each of which everyone at the company treats as home.
The company's 28 party stores are located in Texas and Oklahoma. To find a location near you, visit Wally's website at http://www.WallysPartyFactory.com. Here you can find more information regarding products, store hours, upcoming events, and unique party ideas.