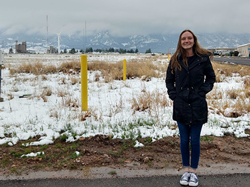 The goal of the Walsh Family Scholarship is to support Placer Union High School District students to attend Sierra College and prepare for careers in Mechatronics, Engineering, Welding, Drafting Engineering Support, and Construction and Energy Technology.
ROCKLIN, Calif. (PRWEB) June 05, 2019
The Placer Community Foundation (PCF) administers the John G. and Lillian M. Walsh Family Scholarship program that has been encouraging Sierra College students since 2015, explained Veronica Blake, CEO, PCF. "The goal of the scholarship is to support Placer Union High School District students to attend Sierra College and prepare for careers in Mechatronics, Engineering, Welding, Drafting Engineering Support, and Construction and Energy Technology," said Blake. "Scholarships offer up to $1000 per year for two years."
A recent survey of over 30 Walsh Scholarship recipients was conducted by Carol Pepper-Kittredge, Associate Dean, Workforce Innovation, Sierra College. "Half of the students surveyed indicated that the scholarship influenced their decision to attend college," said Pepper-Kittredge. "This is one of the few scholarships focused on Career Technical Education students, whether they want to earn a certificate, complete a degree or transfer to university. Regional employers are eager for students to gain technical education at Sierra College to fill open positions with local companies."
Jaycob Thorne, a Mechanical Drafting & Engineering Support student, indicated that the Walsh Family Scholarship motivated him to take advantage of Sierra College's offerings. "I discovered that I enjoyed drafting when I was a freshman at Del Oro High School," said Thorne. "I was on the fence about my plans and the Walsh Family Scholarship made it attractive to go to Sierra College to gain more drafting skills. In 18 months, I'll earn a certificate with the skills I need to start my career."
The scholarship and attending Sierra College allows students to explore their interests at a lower cost than attending university. Students responding to the survey commented: "The scholarship enabled me to stay local and save money for my long-term education goals," "I work 40 hours a week to support my family on top of taking 12-15 units each semester," and "it allowed me to complete classes at a lower cost."
The Walsh Scholarship offers options to students, explained Savanna Turner, engineering major. "Students not really sure how they want to apply their interest in design, engineering or technology can come to Sierra College and explore the possibilities," said Turner. "Since the Walsh Scholarship pays for your books and tuition, you can focus on your studies and can take advantage of Sierra College programs to explore your career interests."
Many of the survey respondents reported that the hands-on programs at Sierra College prepared them for their future careers. "The Mechatronics classes are engaging and applicable to the real world," said one respondent. "I can show employers the projects I fabricated to demonstrate the quality of my work." Others wrote: "Without Sierra College's welding program, I would not have the career I have today" and "Sierra College gave me more knowledge and confidence for jumping into the workforce."
Some students were intrigued by the idea of becoming entrepreneurs. Respondents reported: "I want to invent new equipment to solve everyday problems," "I work in the family business and have been able to use my welding knowledge," and "my career plans started out as just learning how to weld but now I'm thinking of starting my own welding business."
Others indicated that the scholarship encouraged them to pursue higher education after Sierra College giving comments such as "the scholarship pushed me to excel and get into a top university" and "I got this scholarship which allowed me to transfer to San Jose State University to pursue Chemical Engineering."
The Walsh Family Scholarship made it possible for Colfax High School graduate, Olivia Alexander, to smoothly transition from Sierra College to California State University, Chico where she is pursuing a degree in Environmental Science with an emphasis in energy and earth resources. "The scholarship enabled me to take various Sierra College classes and consider career options without taking on more expenses than I could handle," said Alexander. "I felt well prepared for the workload at university and the expectations of professors."
At university, Alexander has had more opportunities to consider how she might apply her Environmental Science major to careers. "In May 2019, I went with a group of students to work at the National Wind Technology Center in Colorado," said Alexander. "I worked with a team to conduct the financial analysis of a hypothetical wind farm. I've also had a chance to be involved in renewable activities on campus. I'm really excited about the prospect of working in the energy field."
Another Colfax High School graduate, Savanna Turner, has been laser focused on her career goal of pursuing bio-medical engineering to design better prosthetics. "The Walsh Scholarship has definitely had a positive impact on me," said Turner. "I have been able to attend Sierra College at little or no cost and focus on what I need to do in the engineering program."
Winning the scholarship has given Turner more time to explore internships and personal projects. "I've been talking to companies about internships this summer where I could gain experience designing prosthetics," said Turner. "I've also been developing a new prosthetic design and am working with someone to custom design and build it for him."
Thorne describes Sierra College as very welcoming. "Everyone is friendly," said Thorne. "The professors are helpful and the laboratory assistants not only guide you to fix problems, they offer advice and show you different ways to find solutions. There is also a real feeling of community and comradery among the students; we help each other when we are struggling."
Survey respondents concurred: "The welding and advanced manufacturing instructors helped me hone my skills and push through the classes," "the professors truly care about the success of the students," and "the amazing professors and math lab were a huge help in building my foundation."
Students should apply for the scholarship, according to Alexander. "When you are in high school, you don't realize all the costs you'll incur in college," said Alexander. "The time to apply for the scholarship is much less than the time you'd need to spend on a part-time job that will take you away from your studies."
The next round of Walsh Family scholarship applications will be accepted January 1-March 30, 2020. Students in the 12th grade, living in and attending high school in the Placer Union High School District, are encouraged to visit their counselor in January to pick up an application, or contact Carol Pepper-Kittredge at cpepper-kittredge(at)sierracollege.edu.
About the Walsh Legacy and Placer Community Foundation
Marian Vade Walsh was the fourth generation of her family to live in Auburn CA and she established the John G. and Lillian M. Walsh Family Scholarship Fund in honor of her parents to provide scholarships for local students. Placer Community Foundation (PCF) grows local giving to strengthen our community by connecting donors who care with causes that matter.
ABOUT SIERRA COLLEGE
The Sierra College District is rising to the needs of our community. Sierra College serves 3200 square miles of Northern CA with campuses in Roseville, Rocklin, Grass Valley, and Truckee. With approximately 125 degree and certificate programs, Sierra College is ranked first in Northern California (Sacramento north) for transfers to four year Universities, offers career/technical training, and classes for upgrading job skills. Sierra graduates can be found in businesses and industries throughout the region.