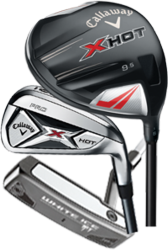 This is the first time we've carried a set of clubs of this caliber. They retail at $2,000 but we are offering them to our players for only $75. It's a great chance for golfers to see how this technology can improve their swing and game.
(PRWEB) March 15, 2013
Now there is no reason to pay extra baggage fees when you travel with your clubs: Walters Golf has announced that they will now be offering Callaway's X HOT clubs for rental at all three of their courses: Bali Hai Golf Club, which is located right on the world-famous Las Vegas Strip, offering golfers 7,002 yards of pure, tropical golf paradise; Royal Links Golf Club, which faithfully recreates 18 of the best holes of the British Open; and Desert Pines Golf Club, a Pete Dye-designed taste of the Carolinas.
Golfers can now try before they buy, Callaway's X HOT clubs have created a new standard in distance and speed, allowing golfers to gain explosive distance, add to their speed, and hit a 7-iron where they used to hit a 6. Walters Golf will now be renting these clubs, which retail at over $2,000, to players of their courses for only $75. Each set includes: X Hot Irons (4-SW), X Hot Drivers, X Hot Fairway Woods, XHot Rescue Hybrids and a Metal X Putter, giving players room to really step up their game on the golf course.
For more information, please visit Walters Golf's website.
About Walters Golf
Walters Golf, a division of The Walters Group, has become one of the fastest-growing and most widely respected golf companies in the country. From its first venture into the private country club market in 1995 to today's ownership and operation of top-quality, daily fee golf courses, Walters Golf continues their commitment to quality and profitability while offering customers excellent value.
Led by businessman and avid golfer Bill Walters, Walters Golf is known in the national golf industry for developing first-class golf facilities. According to Executive Golfer, Walters is "Nevada's leading golf entrepreneur" who "recognized the need for visitor and corporate friendly golf facilities and packages, and seized on the opportunity, investing millions in four magnificent properties."
In Las Vegas, the company owns and operates Royal Links Golf Club, Desert Pines Golf Club and Bali Hai Golf Club in addition to Las Vegas Golf Getaways, Las Vegas Preferred Tee Times and Cili Restaurant.