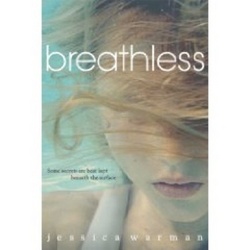 More than anything, I think the Honors College has a fine definition of success that helped give me the motivation to follow my dreams, regardless of how difficult they might have seemed at the time, Warman said.
Indiana, PA (PRWEB) April 7, 2010
A Cook Honors College (CHC) of Indiana University of Pennsylvania (IUP) 2003 alumna's debut young adult novel recently hit bookshelves nationally.
Breathless, published by Walker & Company, is a semi-autobiographical story based on the teenage life of Jessica Warman, who earned a degree in English at IUP and a master's in creative writing at Seton Hill University. While at IUP, she was a peer health educator at the health center.
"This is especially relevant to the book because it deals so closely with issues of drug abuse, depression, bullying, and mental illness," said Warman, of the year and a half she worked as a peer health educator.
"Many of the characters are based on real-life people," said Warman, 28, of Murrysville, PA. "I did take creative license in some parts for the sake of the plot. I'd say about 80 percent of the story is based on real-life experiences."
The book's lead character, Katie Kittrell, is an Olympic swimming hopeful sent to boarding school to keep her away from a schizophrenic brother.
"She has an older brother, Will, who is suffering from drug-induced schizophrenia," Warman said. "When Will has a major breakdown and attempts suicide, Katie's parents whisk her away to boarding school in order to shelter her from Will's decline. At boarding school, Katie falls into the easy lie that her brother is actually dead. She falls in with a popular crowd, gets a boyfriend, and has a great career as a swimmer, but her lie about her brother constantly threatens to reveal itself."
Warman originally wrote the book in six weeks right after graduating from the Linsly School, a boarding school in West Virginia.
"The book is semi-autobiographical, so I didn't have to come up with much of anything," she said. "I just let the ideas flow. I shared the manuscript with some of my professors and peers at graduate school. Many of them commented that it seemed like I had a lot of natural material for young adult audiences. So, while it wasn't initially my intent to write for teens, I seem to have fallen into the genre, and I couldn't be more pleased with how things are turning out. It's a dream come true. When I go into bookstores and see Breathless on shelves, I almost can't believe it's actually happening."
Warman, who will promote the book this fall in schools and bookstores, is also working on another novel and raising two young daughters.
"My entire life, all I ever wanted to be was a writer," said Warman, who also has published poetry and short stories appearing in Sundress Publications. "For as long as I can remember, I ate, slept, and breathed books and writing. While at IUP, I published several poems and short stories in online and print journals. After graduation, I went to Seton Hill University. It was there that I got an agent, who began to shop Breathless around to editors."
Warman had several rewrites and worked closely with an editor to develop the story.
"I have a wonderful editor at Walker/Bloomsbury who was absolutely crucial to the revision process," Warman said. "She was able to take a close look at the book and find so many areas that needed improvement. I'm currently working with her on a second novel (tentatively titled 'Nobody's Babies"), and her input is amazing. In addition, I got a lot of wonderful feedback from my agent, who was a strong believer in Breathless from the beginning, and always seemed to know which direction to steer me."
Said Warman of her book, "I'm so happy with the final product. I think my favorite aspect of the book is the relationship between the main character, Katie, and her roommate, Mazzie. At boarding school, such intimate friendships are forged, and I really wanted to communicate that to readers. I think I did a pretty good job."
Warman relied on her education to develop her writing ability and in her pursuit to become an author. She had studied creative writing for a summer at Yale, where she learned about the writing process.
"I learned so much about the writing process, as well as the fact that talent will only get you so far," she said. "A person needs to have a good handle on things like plot, character development, etc., in order to produce a well-structured novel. When I was at IUP, I took as many creative writing classes as I could register for. And in graduate school, I learned about the business of writing, getting an agent, dealing with editors, and how to really make a living as a professional writer."
As an undergraduate in the Cook Honors College, Warman became motivated to pursue a career as an author.
"More than anything, I think the Honors College has a fine definition of success that helped give me the motivation to follow my dreams, regardless of how difficult they might have seemed at the time, Warman said. "I learned a lot about personal challenges and perseverance while at the Honors College, and as you may imagine, perseverance is a crucial character aspect for someone who wants to be a writer."
Warman said she was guided and mentored by IUP faculty members.
"Jean Wilson, who is now retired, was a mentor to me throughout my years at IUP," said Warman. "I could not have made my way to publication without the many encouraging hours I spent in her office. And Chauna Craig, who taught me Fiction Writing, was the first professor I ever had who really encouraged me to take my writing to the next level, to challenge myself beyond what I was comfortable writing, even if the outcome wasn't always what I anticipated. I owe both of them so many thanks."
###