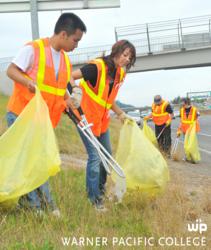 The Common Day of Service is about making a collective statement that as young people, we really are, 'In the city, for the City.'
-Eli Ritchie, Warner Pacific Student
Portland, Oregon (PRWEB) September 18, 2012
The Warner Pacific College Common Day of Service will begin at 9:00 a.m. as students gather in the College auditorium before being sent out to sites throughout the Portland area, ending with a brief time of on-site reflection at 3:00 p.m.
Service projects will include removal of invasive plant species, fall planting projects, general clean-up and painting guardrails around Mt. Tabor; as well as working with 12 different schools and community organizations to provide facilities improvements, landscaping, and interactive projects with elementary and middle school students.
The Common Day of Service began 8 years ago, when a student asked local schools and organizations how Warner Pacific could help support their efforts in the community. Since then, the event has been embraced by the entire College and is a welcome way to kick-off each new school year.
"I'm excited to be part of a campus that is actively addressing the challenges facing our city," said Dale Seipp, Vice President for Enrollment and Marketing. "At Warner Pacific we celebrate our urban identity and view the city as a classroom. Students develop personally, spiritually and professionally through hands-on service to their community."
Founded in 1937 in Spokane, Washington, as Pacific Bible College, Warner Pacific is a Christ-centered, urban, liberal arts college dedicated to providing students from diverse backgrounds an education that prepares them to engage actively in a constantly changing world.