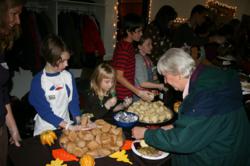 Portland, Ore. (PRWEB) November 16, 2012
Now in its third year, Feast for Southeast is dedicated to inspiring residents of southeast Portland to create a more caring community by building relationships through a shared Thanksgiving meal. Students from all of the Warner Pacific ADP campuses will be volunteering at the event and working to collect coats, hats, and toys to give to neighbors in need who will attend the gathering.
Feast for Southeast began with Roberto Selva's dream to put on a family-style Thanksgiving meal for those less fortunate in his neighborhood. After six years of saying "I didn't do it this year…again," new doors started to open. In early September 2010, Selva began sharing his long-time desire to see this meal come to fruition with a group of neighborhood friends. From that moment on, it was clear that 2010 would be the year to realize this long-time dream and host the first Feast for the Southeast.
"Doing this has been my husband's dream for a long time," said co-founder, Carolina Selva. "Seeing it come to fruition in such a beautiful way has become the inspiration of a lifetime. I'm so excited about the growth that will inevitably come in the future."
Though Roberto's initial dream was simply about feeding the hungry - it has evolved in purpose and is now focused on creating and reinforcing a sense of community throughout Southeast Portland. This year the goal is to make a larger impact with Project Warmth, a charity drive to provide additional items such as hats, gloves, socks and toys at no cost to the guests.
To learn more or find out how you can get involved in Feast for Southeast and Project Warmth, visit http://www.feast4southeast.com.
Founded in 1937 in Spokane, Washington, as Pacific Bible College, Warner Pacific is a Christ-centered, urban, liberal arts college dedicated to providing students from diverse backgrounds an education that prepares them to engage actively in a constantly changing world.