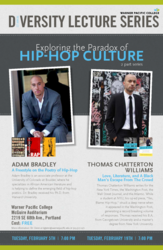 We are thrilled to be able to welcome such thoughtful and gifted speakers to our campus for our first Diversity Lecture Series.
Portland, Oregon (PRWEB) January 21, 2013
Remix: the 1st Annual Diversity Lecture Series at Warner Pacific College welcomes prominent authors, Dr. Adam Bradley and Thomas Chatterton Williams as part of a compelling, two-part event titled, "Exploring the Paradox of Hip-Hop Culture," in McGuire Auditorium on the Warner Pacific campus.
February 5, 2013, at 7:00 p.m.:
Dr. Bradley will present "A Freestyle on the Poetry of Hip-Hop."
Tuesday, February 19, 2013, at 7:00 p.m.:
Mr. Williams will deliver, "Love, Literature, and A Black Man's Escape From the Crowd."
Both lectures are free and open to the public.
These events begin what the College hopes will become an annual gathering, featuring thoughtful discussion and critical analysis on a broad range of topics. Rooted in the mission and core themes of Warner Pacific College, the Office of Diversity provides the resources and programs necessary for developing and supporting a richly diverse campus, while also reaching out to honor voices throughout the greater Portland community.
"We are thrilled to be able to welcome such thoughtful and gifted speakers to our campus for our first Diversity Lecture Series," said Dr. Daymond Glenn, Vice President for Community Life and Chief Diversity Officer at Warner Pacific College. "Through collaborations such as these, we believe that our students and neighbors will move beyond the notion of diversity as just an aesthetic, but rather, embrace it as a systematic approach that is an essential element in helping to make society a more just place."
Adam Bradley is an associate professor at the University of Colorado at Boulder, where he specializes in African American literature. Dr. Bradley's work is helping to define the emerging field of hip-hop poetics. From the fiction of Ralph Ellison to the lyrics of Jay-Z, Bradley explores the crosscurrents of literary and popular culture. He is the author or co-editor of several books including Book of Rhymes: The Poetics of Hip-Hop, and The Anthology of Rap. Most recently, Dr. Bradley collaborated with rapper and actor Common on Common's memoir, One Day it Will All Make Sense. Beyond academia, Dr. Bradley's writing and commentary has appeared in The Washington Post, The New York Times, as well as on NPR and C-SPAN. Dr. Bradley received his B.A. from Lewis & Clark College and his Ph.D. from Harvard University.
Thomas Chatterton Williams is the author of Losing My Cool: How a Father's Love and 15,000 Books Beat Hip-Hop Culture (hardcover), and Losing My Cool: Love, Literature, and a Black Man's Escape from the Crowd (paperback). As a student at NYU, Williams' op-ed piece, "Yes, Blame Hip-Hop," struck a deep nerve when it ran in The Washington Post, generating a record-breaking volume of responses. Thomas writes for The New York Times, The Washington Post, The Wall Street Journal, The Atlantic, The Root, and the literary magazine n+1. Mr. Williams holds a B.A. in philosophy from Georgetown University and master's degree from the Cultural Reporting and Criticism program at New York University; he currently resides in Paris, France.
Founded in 1937 in Spokane, Washington, as Pacific Bible College, Warner Pacific is a Christ-centered, urban, liberal arts college dedicated to providing students from diverse backgrounds an education that prepares them to engage actively in a constantly changing world.
# # #