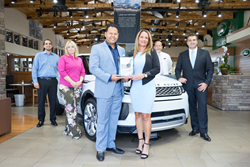 "There were only 68 dealerships in total named across the entire country, and only nine in Florida. So to have three of those nine named was incredibly rewarding."
MIAMI (PRWEB) October 02, 2018
Florida's Warren Henry Auto Group recently had three of their dealerships—Land Rover North Dade; Land Rover South Dade and Warren Henry Infiniti-- named to the J.D. Power "Dealers of Excellence List."
J.D. Power-- a global leader in consumer insights, data, and analytics-- enjoys a reputation for independence and integrity. Their automotive rankings, including the well-known J.D. Power U.S. Initial Quality StudySM (IQS) are some of the most influential data published for consumers.
The "Dealers of Excellence" list was created by J. D. Power to recognize dealerships that provide customers with an outstanding sales experience, and to distinguish those dealerships as trusted partners for purchasing a vehicle. Inclusion on the list is intended to highlight select dealerships for their commitment to customer service—an independent stamp of approval to provide confidence in the new- and used-vehicle shopping experience.
"To have one dealership included in this list is a real honor," said Larry Zinn, Organizational General Manager for Miami-based Warren Henry Auto Group. "There were only 68 dealerships in total named across the entire country, and only nine in Florida. So to have three of those nine named was incredibly rewarding."
Zinn gives the credit to the teams at each of the three dealerships.
We value our team members, and treat them well. I think the J. D. Power ranking shows how those team members express their appreciation—by making sure our customers are treated well, too," said Zinn. "I don't believe it's an accident that all three dealerships named to the "Dealers of Excellence" list were also selected for inclusion in the 'Best Dealerships to Work For' list."
Zinn was referring to a separate publication, Automotive News, and their annual ranking of top automobile dealerships for employee satisfaction. The 2017 list included Land Rover North Dade; Land Rover South Dade, and Warren Henry Infiniti—all the dealerships named "Dealers of Excellence" by J. D. Power. Another Warren Henry Auto Group dealership, Lamborghini Broward, earned the #1 ranking on the "Best Dealerships to Work For" list.
"Our biggest strength will always be having a team that can evolve to a higher playing level," said Zinn. "That's the future. "
But for now?
"Oh, I'm happy," said Zinn. "Really happy."
About Warren Henry Automotive Group
Warren Henry Automotive Group has been in the automotive business in Florida for more than four decades. Today, the automotive group sells and services brands like Lamborghini, Jaguar, Land Rover, and Infiniti, in Miami-Dade & Broward Counties, as well as Audi in Gainesville and Toyota, Ford, Chrysler, Jeep and RAM in Key West, Florida. Warren Henry dealerships employ almost 400 people statewide. A new state-of-the-art headquarters for the Warren Henry Auto Group is currently under construction in North Miami on Biscayne Boulevard at SoLe Mia, a $4 billion, 183-acre multi-purpose master planned development.
Disclaimer: J. D. Power 2018 Dealer of Excellence ProgramSM recognition is based on achievement of high scores from automotive manufacturer customer research and completion of an in-dealership best practices verification visit. For more information, visit http://www.jdpower.com