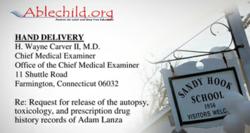 The vast majority of the people were really supportive of our efforts. They were really engaged, and they wanted, and felt like, they had a right to know if Lanza was on drugs. — Sheila Matthews, Co-Founder, AbleChild
Los Angeles, California (PRWEB) March 18, 2013
Citizens Commission on Human Rights (CCHR), the international human rights watchdog, announced its full support of the national parents' rights group, AbleChild, in their official request to the Connecticut Medical Examiner calling for the public release of Adam Lanza's toxicology and autopsy records.
Two Connecticut mothers, Sheila Matthews, co-founder of AbleChild, a national parents' rights organization, and Newtown resident, Patricia Sabato, recently took to the streets of Newtown, connecting with local residents and gathering signatures on a petition that requests the release of the complete autopsy/toxicology results and medical/psychiatric records of alleged shooter, Adam Lanza. It asks a simple but essential question—did prescription psychiatric drugs play a role in the Sandy Hook Elementary shooting?
To back up the need for full disclosure of Lanza's records, the petition points out certain undisputed facts, such as:
· At least 31 school shootings and/or school-related acts of violence have been committed by those taking or withdrawing from psychiatric drugs, resulting in 162 wounded and 72 killed. (See first attached file for full list of incidents)
· 22 international drug regulatory agency warnings have been issued on psychiatric drugs causing violent behavior, including mania, psychosis and homicidal ideation. (See second attached file for full list of warnings)
· Additionally, nearly 13,000 adverse reaction reports are on file with the US FDA between 2004 to 2011. These reactions include homicide, mania and aggressive behavior.
Both Matthews and Sabato were gratified by the community's support. "The vast majority of the people were really supportive of our efforts. They were really engaged," says Matthews, "and they wanted, and felt like, they had a right to know if Lanza was on drugs."
Sabato mimics Matthews' sentiments. "A lot of people actually congratulated us for doing the petition," says Sabato. "The people of Newtown," she explains, "know there is more to this story and, though they are tired of hearing Lanza's name, they still want to know everything that may have played a part in his actions."
The mothers sent the petition to lawmakers and hand-delivered a letter to the State's Medical Examiner, H. Wayne Carver II, M.D., requesting that Lanza's autopsy/toxicology and medical/psychiatric history be publicly released. The request literally cites two full pages of federal and state law supporting the request.
Despite the fact that, under Connecticut law (Conn. Gen. Stat. Ann. § 1-206(a)), Carver is statutorily required to respond to the request, to date, AbleChild said they have yet to receive a response.
In fact, Carver already has released selective information about Lanza's autopsy in the January 11, 2013 Connecticut Post article "M.E.: Lanza's brain appeared normal."
In the end, it's a simple question posed by those who lived through the nightmare. Was Adam Lanza on or withdrawing from psychiatric drugs at the time of the shooting? The information is available. What's the secret?
Representatives from CCHR are joining AbleChild representatives and concerned parents meeting with federal agencies in Washington D.C. over this issue.