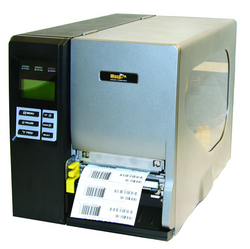 Our reseller partners asked us to develop a ruggedized, feature-rich barcode printer with the affordability and ease-of-use that are the hallmarks of Wasp
Plano, TX (Vocus) July 22, 2008
Wasp Barcode Technologies today introduced two faster, more rugged barcode printers created specifically for high-volume and industrial environments. Loaded with features, the Wasp WPL610 and Wasp WPL608 industrial barcode printers offer the best performance on the market, but with a lower price point than competitive models.
These industrial-grade printers are ideal for customers that need to print a large volume of labels. With ruggedized die-cast construction, they can withstand the harsher conditions of a warehouse or other industrial environment.
The WPL610 sets a new standard for performance and affordability, including extensive standard features:

advanced print speeds reaching 12 inches per second
support for up to 8-inch outside diameter (OD) label rolls
peel and present functionality
easy installation, thanks to flexible connectivity options including internal Ethernet, USB 2.0, parallel and RS232
32MB SDRAM and 8MB Flash memory to support the most demanding applications
list price of $1,195
The WPL608 shares the same industrial casing and easy installation, but its features are scaled down for slightly less-demanding environments. Print speeds reach 8 inches per second. In addition, the unit includes 8MB SDRAM and 4MB of Flash memory. Peel and print functionality is optional. The WPL608 lists at $849.
"Our reseller partners asked us to develop a ruggedized, feature-rich barcode printer with the affordability and ease-of-use that are the hallmarks of Wasp," said Tom O'Shea, general manager for Wasp. "With the addition of the WPL610 and WPL608, our partners now can select from a complete range of Wasp barcode printers to meet their customers' volume and quality requirements, from the desktop to the busiest warehouse."
The new industrial-grade printers offer a high-volume, rugged alternative to the WPL305 desktop barcode printer, a workhorse that serves a broad audience needing a light to medium-duty barcode printer. Completing the Wasp barcode printer line is the Wasp WPL205 desktop barcode printer, a value-oriented solution for customers only needing direct thermal printing.
About Wasp Barcode Technologies
Wasp Barcode Technologies provides data capture and tracking solutions designed specifically for small business. Products include inventory control, asset tracking, time and attendance, barcode scanners, barcode printers, and point of sale (POS) solutions. Wasp products help small business owners manage their companies more efficiently with improved productivity and profitability. Learn more at http://www.waspbarcode.com or call 866-547-WASP (9277).
###