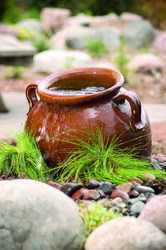 Staying ahead of trends is always a refreshing challenge for us
Chicago, IL (PRWEB) November 28, 2007
Sales of decorative water features have more than tripled for Aquascape, Inc. over the past two years, leading to the newly expanded decorative product line for 2008. In 2003, Aquascape carried a mere 8 SKU's in its decorative line-up. That number has now grown to over 200 SKU's for 2008. Product managers at Aquascape have conducted thorough research in determining product selection, from investigating options at Chicago's Merchandise Mart, to attending numerous home shows, to conducting independent research of customers through marketing research consultants.
Before the decorative line was added, customers were limited to higher cost water features starting at $3,000 for a complete pond installation. Now consumers have more options available to them at lower price points.
"The decorative line is a great way for anyone to get started with water features," commented Dave Kelly, Vice President of Product Development at Aquascape, Inc. "Decorative water features provide the contractor or retailer with a turnkey item that will familiarize them with the water gardening category before jumping into full-size pond offerings. It's an easy, entry level option that takes the fear out of water gardening."
Earlier this year, Aquascape launched the all-new AquaBasin™, made out of black high-density polyethylene with a double-wall construction and an octagon shape that allows for maximum strength. The AquaBasin™ can support over 2,000 pounds and is the perfect basin for some of the heavier decorative items, such as basalt columns or very large ceramic urns. The AquaBasin™ measures 45" front to back and left to right with a depth of 14" and will hold 75 gallons of water. Contractors can easily install a decorative feature using the AquaBasin™ in just a couple hours resulting in a comfortable profit margin. Likewise, the do-it-yourselfer will find installation of Aquascape's decorative product line an easy weekend project.
Many of the new decorative products offered by Aquascape are proprietary. Higher end options include ceramics, hand-carved stone, brass features created with the lost wax method, and slate fountains that are currently popular in Europe. Lower end items are available as well, through Aquascape's glass and resin lines.
"Staying ahead of trends is always a refreshing challenge for us," said Kelly. "We continuously seek competitive sourcing so we can provide the best range of decorative products for our customers. No one wants to have the same water feature as their neighbor, and original water features are where we excel."
For more information about Aquascape's decorative line, the AquaBasin™ or any other Aquascape products, log on to: Aquascapeinc.com or call 866-877-6637 (US) or 866-766-3426 (CAN).
Aquascape is North America's leading innovator in the water gardening industry. Aquascape invented the low-maintenance, naturally balanced ecosystem pond that is the # 1 contractor-installed water garden. The St. Charles, Illinois headquarters, dubbed "Aqualand," received Silver Level recognition in the Leadership in Energy and Environmental Design (LEED) Green Building Rating system. Aquascape's mission is to help our customers succeed at building, selling, and retailing water garden products. Aquascape and its vast network of Authorized AquascapePRO™ Distributors sell exclusively to contractors and retailers. Founded in 1991, Aquascape made the Inc. 500 list of fastest growing private companies four years in a row. In 2005, founder and CEO Greg Wittstock was named one of America's Best Bosses by FORTUNE Small Business Magazine and Winning Workplaces™.
###