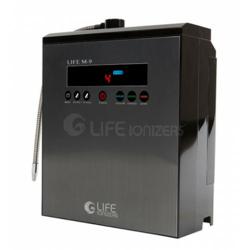 LIFE's mid-range M9 once again sets the standard in quality and performance.
Los Angeles,CA (PRWEB) March 08, 2013
The new 2013 M9 LIFE Ionizer electrolysis chambers make LIFE Ionizers the most efficient and highest quality water ionizers in the world
Benefit: Along with efficiently designed chambers and 9 Platinum/Titanium plates the M9 provides the highest ORP at a drinkable alkaline level of any ionizer available.
Dual internal filtration with free water report and customized pre-filter to provide the purest healthy water using Vitamin C Ceramic Block filter technology (patent pending) to address chlorine and chloramines!
Life Ionizers mid-range M9 once again sets the standard in quality and performance. LIFE exclusive advanced features and technology guarantee your M9 will supply you with years of the highest quality ionized alkaline mineral water.
This counter top ionizer has the option of a faucet to make it an under counter ionizer and includes controls directly mounted on the faucet!
Fully adjustable: Up to 386 Watts ionizing power gives the best pH and -ORP from any particular water source.

Super Coil SMPS power supply provides more power, greater efficiency, and ultimate durability. That's why the LIFE Ionizer M9 comes with an unlimited lifetime warranty/guarantee on parts and labor!
Vitamin C Ceramic Block™ Filtration technology (patent pending) – exclusive to Life Ionizers, this filtration technology is the ultimate for chlorine and chloramines reduction.
Reverse Action Dual Cleaning (RADC) fully automated system cleaning technology – unlike lesser ionizers; you never have to wait for your alkaline water! The RADC system along with our citric acid cleaning cartridges protects your investment from some of the effects of hard water.