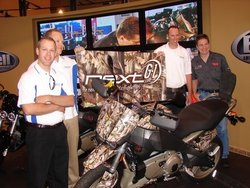 Water transfer printing has been around for some time, and now the process has evolved
Meridian, ID (PRWEB) July 9, 2008
Water transfer printing is a custom decorating process by which poly vinyl alcohol film or PVA is utilized to decorate three dimensional items. Various substrates like wood, plastics and metals are all great applications for the process. Hydro-Dip is quickly making a name in the industry by offering high quality water transfer printed patterns for a wide variety of niches.
"I have seen this process in the past, but not being performed at this level," says Erik Buell, of Buell motorcycles. Hydro-Dip unveiled a Buell 1125R in aqua carbon fiber and a Buell Ulysses in Next G-1 Green camouflage for Mr. Buell's visit to High Desert Harley Davidson in Meridian Idaho on June 21, 2008. "We are very proud of what we accomplished," says Todd Springer co-owner of Hydro-Dip. "We wanted to design a look that incorporated vintage styling with modern graphics. The 1125R is a 25th anniversary edition with world renowned design. The aqua carbon fiber lends itself to the geometry of the bike," says, Mr. Springer.
According to Mr. Springer, "The possibilities are limitless. We have decorated items as small as a dime, all the way up to four wheelers and UTV's. With the advancement of film inks and processes we are able to achieve flawless mirror finishes on many different substrates."
"Water transfer printing has been around for some time, and now the process has evolved," says Scott Springer co-owner of Hydro-Dip. "Our coatings have surpassed rigorous testing and are proven to be extremely durable. We pay attention to detail through each phase of the process and track each item with precision. Our focus is to maintain the highest level of customer service throughout the experience so we track each part individually. Quality control is very important to us. Our manufacturer/retail base expects immaculate traceability."
Water Transfer Printing (Aqua Transfer, Cubic Printing, 3D Printing or Hydro-Dipping) is a surface decoration technology that uses a specialized film printed with natural design (like burl wood, walnut and marble) and geometrical designs to decorate on many kinds of products (like car interior accessories, architecture, handles, switches and many daily applications). Water Transfer Printing is possible to apply on many kinds of materials, such as wood, plastics, metals, etc. and is able to coat on complex three dimensional shapes with very high quality. So, it creates new color and new appearance on the printed product and enhances value.
Hydro-Dip's OEM Shop specializes in servicing the needs of volume based customers or manufacturers. Our Master Decorators will be glad to help you tailor a program that best fits your decorating needs. You may contact us on our website located at: http://www.hydro-dip.com or call at 208-288-1008.
###