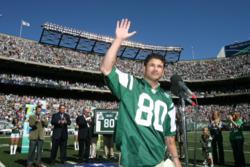 New York, New York (PRWEB) March 06, 2013
Hofstra University graduate and legendary Jets wide receiver Wayne Chrebet, launched his official website, http://www.WayneChrebet80.com. Best known for being a fan favorite among New York Jets fans, Chrebet first put his name on the map in 1994 when he set the single season and career touchdown record at Hofstra University.
His impressive final season at Hofstra University paved the way for his walk on spot with the New York Jets where he was 11th of 11 on the depth chart. His first day of training camp was accompanied by a huge warm "Welcome to the NFL" as he was stopped and detained at the front by the senior New York Jets security guard who did not believe Chrebet could actually be a football player due to his size. Chrebet was eventually cleared to enter Jets training camp where he made the most of the time as he quickly worked his way up the depth chart from 11th to make the team.
The Jets staff was reassured that season that they made the right pick as Chrebet pulled in 8 receptions and broke several tackles versus the St. Louis Rams. The following year, Chrebet put on a show for the Jacksonville Jaguar crowd as he hauled in 12 receptions for 162 yards with five third-down conversions. His impressive play got analysts drawing comparisons to former Jets teammate Keyshawn Johnson along with earning him the nickname ,"Mr. Third Down" because 379 of his 580 career receptions were third to first down conversions. Fearless to going across the middle, Wayne made a living in moving the sticks.
After eleven remarkable years with the New York Jets, Chrebet decided to hang up the jersey and announce his retirement. Chrebet finished 2nd in the New York Jets record books with 580 receptions and finished 5th all-time with 7,365 yards from scrimmage. Chrebet was formally honored by the New York Jets on "Wayne Chrebet Day" during halftime of the September 23rd, 2007 game against the Miami Dolphins.
Recently, Chrebet joined Morgan Stanley as a financial advisor working out of the Red Bank, New Jersey office. In Fall 2012, Chrebet joined Barclays Capital as a financial advisor and Assistant Vice President working out of the Park Ave, New York City office.
Many of these extraordinary memories and achievements can be relived on his new official website, http://www.WayneChrebet80.com . His new interactive site also allows fans to watch video highlights, view memorable photos of his career as well as the ability for corporations to book Chrebet for corporate appearances, speaking engagements, autograph signings, VIP Meet & Greets and product endorsement deals.
Written by: Anthony Fernandez
About AthletePromotions.com
AthletePromotions is a sports marketing firm and athlete booking agency booking thousands of athletes for speaking engagements, corporate appearances, product endorsements, autograph signings, spokesperson campaigns, celebrity golf tournaments, VIP Meet & Greets and more. To book an athlete, call us at 1.888.246.7141