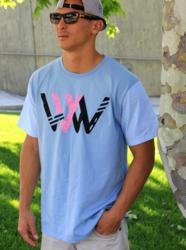 The high fashion, yet laid back look is easily distinguishable. WAY has created their own style.
San Clemente, CA (PRWEB) April 30, 2013
WAY WEAR has become a luxury street wear organic brand that is centered on being real. All items are created using only the freshest organic materials available. WAY WEAR is dedicated to producing the most innovative organic clothing and accessories. Time Has a WAY of Changing Things is the heavily anticipated WAY WEAR Summer '13 line. The new line will feature a new twist on the WAY WEAR luxury strapback, leather coin pouches, shorts, and graphic cut and sew tank tops. WAY headwear and accessories are handcrafted in house in San Clemente, CA. WAY does this in order to fight the carbon footprint left on planet earth by all of the other apparel manufacturing factories. The handcrafted products create a unique quality unmatchable to anything found in stores. The only WAY to describe the Summer '13 line is a dash of high class hip hop and the imagery of the the beach life. These two factors are are perfectly blended together to create a new style. The high fashion, yet laid back look is instantly distinguishable. WAY is dedicated to making products that turn heads. Whether it is a thought provoking graphic design or a skilled in-house sewn item, expect nothing short of perfection on products that create conversation. A WAY WEAR customer has been quoted saying, "I have walked into high fashion retailers like Gucci and Prada and been asked by the employees and fellow shoppers about a WAY WEAR product I was wearing. Their jaws dropped when I mentioned it was organic." A person can look rich and feel real with WAY WEAR. The handcrafted, one-of-a-kind products will make those that buy shine like the sun in the day and feel like a star at night. Find out more info about the Time Has a WAY of Changing Things Summer '13 line by joining the newsletter at http://www.waywearlife.com located on the top right of the page.