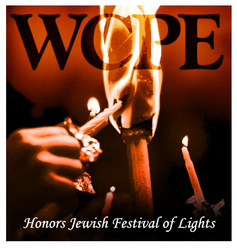 We will feature Darius Milhaud
Wake Forest, NC (Vocus) November 29, 2010
WCPE's Assistant Music Director Kenneth Bradshaw announces today that TheClassicalStation.org will air special programming at sundown, 6 p.m. ET on December 1 honoring the Jewish Festival of Lights, Chanukkah. There will be other Hebraic composers and music featured throughout the eight day holiday. In addition, 'WAVElengths', the WCPE modern music program, will air Jewish composers on Sunday December 5, 9 p.m. ET. 'Great Sacred Music' host Rob Kennedy will air 'Judas Maccabeus' after 8 a.m. that same day.
"We will feature Darius Milhaud," says Bradshaw, who is also 'As You Like It' host. "His family fled France to avoid Nazi occupation."
"He heard jazz in Harlem in 1922," he adds. "His most famous student was Dave Brubeck."
WCPE will celebrate the lighting of the first candle of the seven candle menorah. The program will feature 'Chanukkah: In Story and Song' with Leonard Nimoy, guest narrator. There will be performances by The Western Wind with guest instrumentalists
The acclaimed vocal sextet and the renowned actor present 25 eclectic selections, from the Ladino songs of the Spanish Jews and Yiddish melodies of Eastern Europe to modern Israeli tunes and their original version of "I Have a Little Dreydle." The singers sing a cappella and are also joined by instruments including violin, accordion, bass and guitar. The narration written by Rabbi Gerald Skolnik sheds light on the holiday customs and rituals.
From the Hebrew word for dedication or consecration, Chanukkah marks the re-dedication of the Temple in Jerusalem after its desecration by the forces of Antiochus IV and commemorates the "miracle of the container of oil." According to the Talmud, at the re-dedication following the victory of the Maccabees over the Seleucid Empire, there was only enough consecrated olive oil to fuel the eternal flame in the Temple for one day. Miraculously, the oil burned for eight days, which was the length of time it took to press, prepare and consecrate fresh olive oil.
The festival is observed in Jewish homes by the kindling of lights on each night of the holiday: One on the first night, two on the second, and so on.
The Great Classical Music, 24 Hours A Day offered by WCPE transcends belief systems, being crafted by artists from all traditions and listened to by a global audience reflective of the world's diversity. Found throughout WCPE's programming are the traditions of people from all walks of life.
WCPE's live broadcast of Great Classical Music, 24 Hours A Day can be accessed around the globe in several ways; on-line streaming in multiple formats, including IPv6, local cable television systems and traditional radio broadcasting. A complete list of the ways WCPE is available with instructions for cable and satellite reception can be found at: theclassicalstation.org/listen.shtml. In central North Carolina and southern Virginia, WCPE is found on the radio at 89.7 FM.
About WCPE:
With a 30 plus year history, WCPE is a non-commercial, 100 percent listener-supported, independent station dedicated to excellence in Great Classical Music, 24 Hours A Day. Community-minded business underwriters and foundations are among the 150,000 listeners in the North Carolina broadcast area. General Manager Deborah S. Proctor's leadership has enabled the WCPE community to include national and worldwide listeners. Other radio stations and cable television systems can rebroadcast Great Classical Music, 24 Hours A Day. WCPE is one of the first public broadcasters to stream on the Internet. WCPE is heard worldwide on the Internet in multiple formats, including the next generation IPv6. Because WCPE receives no tax-derived support, the station conducts two on-air fundraising campaigns and two major mail-out campaigns per year to raise needed operating funds. Quarter Notes, the WCPE Program Guide, is published four times a year as a means to enhance appreciation and understanding of classical music. It is distributed to station supporters and is also available online at TheClassicalStation.org/guide. For more information, visit TheClassicalStation.Org or call 1-800-556-5178.
# # #